Resume For Free, a suite of tools that you need to help you get a great job. Write it yourself using our free resume creator with help, tutorials and examples to make the best resume you can.
Resume For Free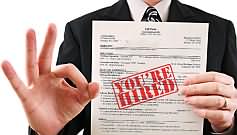 The catch with other free resume creators is that when you are finished you are asked to pay to keep and use the resume. Or they will let you create a crippled version that uses only one template style with a limit to what you are allowed to add unless you "unlock" the advanced features. They ask you to create a whole resume, spending all of your time doing it. They allow you to see the preview, then encourage you to pay for a usable version. The problem is that you thought it was free, you didn't expect to have to make a payment at the end since that wouldn't be free.

Resumizer does not do that, you are welcome to use our resume management system without any payment. You will not be using a limited, crippled version of the program. We only have one full version. We let you use any and all of the styles and features that each program has available for as long as you like. You don't even need to join anything to make your resume for free or create other documents using our other creators. The free services we provide are a resume creator, a cover letter creator, a references page creator, a networking business cards creator, an interview thank you letter creator and resignation letter creator along with all of the helpful tips and
tutorials
.
If you choose to
join
, which is also free but not required to create a resume for free etc., you will have access to a greater number of services. If you wish to use our online resume management system we need you to join so that we can obtain your consent to store your information in our database. To simply create a resume for free etc. we don't need to store any data. If you want to be able to login to gain access to write, make edits or post your resume in our free directory it should be obvious that we need to store your information to be able to do that.
The same level of service applies to our job search listings. Employers are welcome to list jobs for no cost just as job seekers can search for jobs at no cost. You may also access our services using your
smartphone or tablet
. If you wish you can read our
terms of service
page.
You might be thinking, this sounds like a sales pitch, why did they take the time to write this page. It was written in an effort to cut down on the number of emails we receive from people who can't believe these great services are free. Well, here it is... Yes, it is free. No, you won't have to pay a fee at the end. So go make your resume for free and good luck with your job search!