Cloud Resume
A Cloud Resume is a modern way to create and distribute your resume from your desktop, tablet, or smartphone. You now have the speed and convenience of storing your resume in the cloud for easy access. Imagine the convenience this level of accessibility brings, being able to manage your resume from anywhere that you have internet access!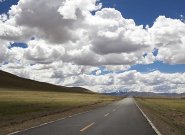 Cloud Resume Features
You can create, edit, export, post, and send your resume from your tablet smartphone or desktop computer. You can also print your documents from a wired or WI-FI printer. Other features include creating your cover letter, reference page, and many other job related documents. If your lifestyle is such that you travel or you are always on the go and you are currently seeking employment you will like the feature of global access to your posted page. You can send your documents to anyone with a working email address by logging into your account. How nice would it be to make an update or edit on the fly when the change you want to make pops into your head? The perks we offer can be of great value in managing your career building documents. We go into more detail below.
Additional Resources
Career Help Library >
Do You Need a Cloud Resume?
How Can You Benefit From This?
There are many conveniences which we have listed here.
Create your custom resume, cover letter, reference page and much more.
Store your resume online, if you travel you will have global access to it.
Pay nothing for these awesome free services.
Export your pages in PDF, Word, text and HTML formats.
Send your resume, cover letter and reference page to an employer or yourself.
Link to it from your social media profile.
All documents have a matching style, colors and font.
Access, create, and send using a smartphone, tablet or desktop.
Utilize our help library with tutorials, templates and how to videos.
There are no imposed usage limits use it as much as you wish.
Account support via email contact us if you have an issue, we are here to help.
Cloud Resume Features
Create Custom Resumes, Cover Letters and Reference Pages
There are many styles, fonts, colors, and features that each program provides. These documents can be created using common styles, fonts, and colors, so they match thereby creating a professional look. You may view different styles within each program or view them individually on our resume templates page.
Resume Management Account
There is an account home page you will use to access your resume, and make your cover letter and reference page. It also provides quick access to our Help Library of tutorials and videos. You can edit, download, print, or send your documents from the home page, as well as access our other web apps to create new documents.
Send to an Employer
This feature allows you to send your resume, cover letter, and reference page to an employer. Quite often employers will provide an email address in which to submit your documents. You can easily send your cloud resume to them via your smartphone, tablet or desktop.
Help Resources
Full access to our extensive Help Library is provided to you. Here, you can gain information on how to write a professional cloud resume. Other tutorials will help guide you in building your career and with mastering the interview process.
Post Your Resume
At your discretion you can post to our directory. Here employers can search the directory to find candidates who meet their job criteria. You can choose the category where you would like to post, and include a short directory description which summarizes your abilities. Choosing to list in the directory is optional.
How Much Does All This Cost?
Nothing, isn't that great? Our users think so. We have never charged members and non-members alike for using any feature on Resumizer. Like to know more about us? Please visit our About Resumizer page. So make your own documents and good luck with your job search!