FREE Resume Business Cards Creator Networking Cards
FREE Resume Business Cards Creator Networking Cards a great way to make a lasting impression at social functions. Give out business cards with info about your career highlights and special skills. You will always have a mini resume with you should you be in a social setting where you would benefit by having something that described your accomplishments for a possible employment opportunity.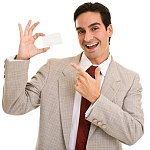 FREE Resume Business Cards Creator Networking Cards
Most business cards have basic contact info which is fine to just give someone your number. Wouldn't it be nice if you had more comprehensive business cards? Not only will you provide your contact info but also a great way to feature your career highlights and other important skills or accomplishments that can help you in your career networking situations.
This concept is a simple way to improve your chances of being remembered and will give you a leg up on others who simply gave out basic business cards. Unless the employer has a great memory and can remember all of the facts and details about all of the people they meet you will clearly have an advantage over the competition.
Other nice features of the system are the freedom to choose the options you wish to include. You can make your free resume business cards one sided or use the front and back sides to allow for the inclusion of additional information about you. The font can be chosen along with the color of the text and color of the trim and any accents used in the style you chose. A nice classy looking monogram logo or your photo can be included if you would like that feature.
Upon using the free resume business cards creator you can expand to use our free resume creator and resume management center. This will give you a matching resume, cover letter, reference page and networking business card all using the same fonts and colors. You may use all of these free services each as you like. You may also post your resume online for additional exposure to advertise your skills. To edit later you can use the edit file that you download after the creation process, enabling you to load your info back into the system.