Resume Section Order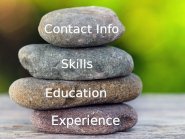 Resume Section Order
Resume Section Order, chosen wisely will help to optimize your resume by formatting each section in an order that will present your details in a way that will convey your relevant information quickly. Our
free resume creator
provides 10 different resume section order formatting choices to optimize your resume to display your most relevant details at the top in the most favorable light. In our program popular formatting choices are #1 and #2. You may be interested in learning more about formatting. You are welcome to read more about
resume formats
and how to use them to your benefit.
Depending upon the relevance of your employment and educational histories it is beneficial for you to present your information using a resume section order that will highlight your strengths. With only you knowing the details of your goals and what you have to offer an employer you will have to decide which order(formatting) would be most beneficial.
Resume Section Order Troubleshooting
Limited Work History:
For example if you are fresh out of school, you have a limited work history or had jobs that are not relevant to the position you are applying for you may want to put a relevant education history first.

Limited Education:
In another case you may have an irrelevant education history but had jobs that are relevant, in that situation you may want to put the jobs first.

Limited Everything:
If you feel you really have nothing relevant If you think about it you will most likely find there are parallels you can make between unrelated fields. If you do run into this situation you will need to decide what can be seen as relevant and put that near the top. If you don't have much to work with then all you can do is use what you have as far as education and job history and make the best of it. It is recommended that you don't lie since at some point you may be found out and terminated, or asked to perform a job skill that you claimed you have. For more information about this read our job interview tips page you will find useful information that can help here.

We are pleased if our resume section order guide has helped you to optimize your resume.