Action Verbs for Your Resume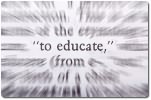 Use these action verbs on your resume to increase the power and importance of your resume. Make your mundane work experience and education histories seem more valuable and impressive. Your writing style and word choices are as important as the information itself. The application of active and energetic wording in your writing will attract your interviewer's attention more than if you used dull, passive words!
Refer to our list of commonly used words shown below. Checking over what you have written thus far, then replacing low quality words with robust, more effective ones can add a layer of professionalism that you may be lacking.
Career Help Library >
Why should you use action verbs on your resume?
The action verb "
created
" sounds more significant and accomplished than an uninteresting word like "
started
." The word "
created
" reflects a sense of technical ability and innovation. "
Started
" is used to describe a beginning and doesn't deliver feelings of ownership or completion.
Using the action verb "
promoted
" is much more remarkable than "
worked on
." Writing "
worked on
" sounds as though you are casually connected to the project or item you are writing about. This is interpreted as, you didn't design and develop the project or product, which can detract from the value this accomplishment adds to your resume.
Putting it all together.
The very first word that you use to describe one of your skills, duties, or qualifications can make the difference between an impressive or lackluster resume. We have listed action verbs below that will help you make your resume and cover letter more notable. Substitute the action verbs from the list below for the less powerful verbs you have currently used. Just replacing your humdrum verbs with these action verbs can "kick your resume up a notch" to get you noticed!
Locate your ineffective words by marking or highlighting them on a hard copy piece of paper or computer document; that way, you can find them easily as you progress. You know what the words mean since you already used them in your sentences. Scan the list and pick out new words to replace your own. It may sound simple, but the most difficult part will be choosing the word that best fits your situation as there may be several suitable replacements. If you take your time and try each word by reading it aloud, the right match will eventually surface. If it sounds awkward or you stumble as you are reading, try another word. Use action verbs on your resume and all of your supporting documents to impress the reader. Don't forget about using them on your cover letter and networking business cards!
Our list of action verbs to use on your resume:
achieve
acted as
active in
adapt
administer
advise
allocate
analyze
anticipate
approve
arrange
assess
assist
attend
balance
budget
calculate
chaperone
clarify
coach
communicate
compare
complete
conduct
construct
consult
control
cooperate
coordinate
counsel
create
decide
define
delegate
demonstrate
design
determine
diagnose
direct
discipline
discover
display
distribute
document
draft
earn
edit
eliminate
employ
enact
encourage
enforce
enhance
establish
estimate
evaluate
examine
express
facilitate
follow up
formulate
gain
generate
grade
guide
handle
identify
illustrate
implement
improve
improvise
incorporate
increase
influence
inform
initiate
inspect
inspire
instruct
integrate
interact
interpret
interview
investigate
involve
judge
lead
lecture
locate
maintain
manage
mediate
modify
monitor
motivate
negotiate
observe
obtain
operate
optimize
order
organize
originate
oversee
participate
perceive
perform
plan
predict
prepare
prescribe
present
prevent
produce
propose
prove
provide
publicize
publish
question
realize
recognize
recommend
redesign
refer
reinforce
relate
reorganize
report
represent
research
resolve
review
revise
schedule
screen
select
serve
simplify
solve
speak
standardize
stimulate
strengthen
structure
substitute
summarize
supervise
support
teach
test
train
transform
translate
treat
tutor
utilize
verify
win
write