Resignation Letter Creator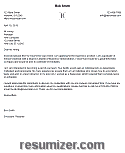 Our letter creator will give you many options with resignation letter examples that you can customize. Our Resignation Letter Creator will help you write it and do all the formatting automatically. Our other creators help you get a job. When you do, you will need to terminate your employment at your current job. Our Resignation Letter Creator will help you by simplifying the task.
Create Your Own Resignation Letter
Our Resignation Letter Creator has many custom options that you can also apply to our other creators. They all use the same matching letterhead; you can use the style you chose here for all of them.
The simplest way to use the Resignation Letter Creator is to write your details into our built-in resignation letter examples and use them like that. For a more personalized approach, use the examples as a base, then modify them to make them original to your situation.
It is much easier to modify examples that we have already written than to write them from scratch. Either way, you will end up with an effective resignation letter that will communicate to your employer that you are leaving, but you appreciate having worked there. Look through the examples to pick the one you like best.
The choices begin with selecting a style that you like along with your favorite font and colors. Then, we move forward to the section with the body of the letter. Please choose the body the works best for you. Each one has a distinct voice; one of them is sure to match your own. Look for one that most closely parallels the way you speak.

This document will have a more formal style of writing, but the general manner of speech can be similar to your own.
Follow each step, use the options you wish to use by entering the information requested by the Resignation Letter Creator. Depending upon the style you choose (1-25), you also have the option to include a photo or logo, if that is appropriate for your situation. We offer many options to suit our guests' varying needs.
Your resignation letter can be modified in the future using our simple editing system that loads all of your information and preferences into the creator with one click. You can then proceed to add or remove anything that is needed. This editing process includes changing to a different style or body template. To begin simply click this button to be taken to the creator.