Resumizer's Feedback Survey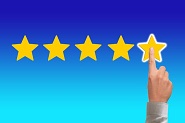 To serve you better, we would appreciate feedback from you our valued guest. Resumizer was created to be a place where you can create your resume without feeling pressured to purchase anything.
How Did We Do?
Resumizer and all that it has to offer has been free of charge since it was created in March 2006, learn more
about us
or read some
reviews
written by our users.
The purpose of this survey is to listen to you and implement changes, improvements, or additions you would like to see become a part of Resumizer. We appreciate that you are willing to offer your feedback to tell us about your needs and expectations. Please rate the following as you see fit. Thank you for taking the time to help us, better assist you! Note: Due to COPPA regulations, you must be 13 years of age or older to send this form.
Please click the answers below.
A
1 rating is the worst
, and a
5 rating is best
.