About Resumizer.com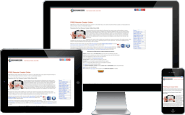 Resumizer.com was founded on March 31st, 2006. Resumizer is an online web app that enables job seekers to write and edit resumes, cover letters, and other important documents with ease and at no cost. You may not have the money needed to hire a company to have these documents created for you. In that case, you can do it yourself. We made the tools available that you will need to tackle this task.
Writing it yourself can be better at times since no one else knows what your needs and goals are better than you do. If you hire a writer, they may want to hurry to get it done and get paid and not use the care needed to do the job right.
Our Beginning …
We launched Resumizer as a SaaS app (Software as a Service) with a
Free Resume Creator
suite that includes a collection of online career-building tools. We continuously improve these tools and services with updates and new features as trends change. The idea for Resumizer came about as the result of an internet search. When a family member needed a resume, of course, we searched online to find an appropriate place to build one. The search results revealed many resume resources, but they had several undesirable aspects like these:
We found they had a cost or a catch to create or download the resume.
There was the inconvenience of having to join or sign up for a resume service before we knew that we liked it.
Then there was the bother of having to sign up at all. Maybe we want to make a resume and not have to go through all that.
After going through all the trouble to write our resumes, we thought that developing this Free Resume Creator was an excellent way to help others write their resumes. Especially since they too didn't know how to write them. And they probably weren't eager to sign up for yet another website. We wanted to create a resume service that didn't require its users to register for memberships.
We thought the service should also conform to the fact that, at that time in 2006, most things on the web were free. We wanted to let people make resumes and not have to pay for them. We knew we had a better way, so we developed the concept for Resumizer. A website that provides
job seekers
with the services they need,
free resumes
,
cover letters
,
career help
, how-to
videos
, and more. All at no cost!
Our Mission …

We put much time and effort into the development of Resumizer, a Resume Management System that has been
100% free since 2006
! There is no need for you to sign up for a membership or pay any fees. There are
no subscriptions or trial periods
. The display of third-party advertisements is how all our costs are absorbed. You can create, print, export, or download resumes and other documents at Resumizer
®
.
Resumes at NO cost, from start to finish, has been our mission from the beginning. Our users appreciate this philosophy, and it shows! Resumizer has experienced increasing success since its inception.

Numerous sources have talked about Resumizer.com and the service it provides: ABC News sites, CNET, college career centers as an online resource for their students, and public library websites as a resource in their job and employment assistance sections.
You are welcome to use our services! Be sure to use all our creator programs to their fullest and take advantage of our Help Center.
You may be thinking to yourself.
Will Resumizer really give me a resume for free?
The answer is
yes
, it will!
Please get started with our
Free Resume Creator
or read some
testimonials
to see what others already know about Resumizer
®
.
We welcome you to connect with us or follow us.