Five Effective Tips for Job Seekers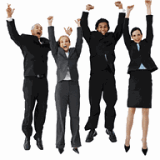 There are countless secrets and suggestions out there about the tedious process of searching for a job. Here, lies a narrowed down list of the most effective tips that job seekers can use during their search.
Job Seeker Search Tips
Many advice columns and websites have their own ideas of how and what works for the majority of people during their search, but the most effective and popular ideas and suggestions are all listed here in an attempt to help people of all positions and backgrounds to not only
find job
listings, but have overall success in the end by actually obtaining the job position.
There are many clichés that go along with career help and job seeking help, and some of them are proven to be effective, but other times it is the unconventional and unexpected that can have the largest effect for a certain individual.
So no matter what stage of your life you are in, please feel free to try some of these tips during your search so that you can see how effective they are for you.
5 Tips to Aid Your Job Search
Career Help Library >
Effective Tips for Job Seekers
Have a Vision
It is easier to get something that you want when you have a clear vision or idea of what it is that you are seeking. The more defined and decisive you are with your career goals, the more effectively you can narrow down your job search and your qualifications that you need to have the best job you can.

While it is often said that you should follow your dreams and passions and reach for your ideal position, that is not necessarily the best method to get what you want. People change over time, and it is often said that the people who are truly happy with their careers did not first believe that they would end up there.

While it is important to know what you want, it doesn't have to be so incredibly literal. Picture how you want to feel at work and the types of things that interest you, and you could find a way to create a situation for yourself.
Take What You Want
What you want may not exist, or it isn't on the market yet. You can't sit around waiting for something to come up. You must take every opportunity to make the position that you want. Do your research in your field of study and discover companies whose work interests you.

Don't be afraid to approach them with your ideas and take an interest in the problems that the company is currently facing. Pitch potential solutions to their problems and you may be surprised at how valuable they might find you.
Listen First, Talk Second
Being a good listener is a very beneficial trait. It will set you apart from other applicants because people are so focused on proving themselves that they forget to take an interest in the company that they are applying for.

Step away from the self-boosting talk for a moment and take in your surroundings during any interaction with the company that you are applying to.
Don't Be Hasty With Applications
Finding a new listing can be exciting, especially when they are difficult to come by, but you have to realize that applying for every position that comes your way is not the best strategy for job seekers. As you refresh the online postings day after day it can be tempting to click the "Apply" button for every single one.

When you spot a positing stop for a moment and do a bit of research on the company. Look up employee and employer reviews online, and any projects and feedback that is available to you. Maybe you will find that it seems like a terrible work environment and the staff is horribly underpaid. At that point you won't even waste your time filling out the application.

Even after you complete your research you should still slow down the process by making sure that all of your professional portfolio documents are completed, error-free, and specifically tailored to the position you are applying to. Much of this can be completed using the technique of resume targeting.
Appreciate the Prospective Company
Follow the company that you have applied to on Facebook and other social media sites, and talk them up during your interactions with them. You may appear interested and appreciative by striking up a casual conversation about a public event or success that the company had experienced recently.
These effective tips for job seekers may not work for your interviewing style, but you can agree that none of these suggestions are completely conventional. This little bit of divergence may be what it takes to make you stand out from the other applicants and finally get you hired! Follow the link if you would like to browse our
free job search
listings.