Use Social Media to Improve Your Job Search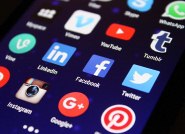 Network to develop contacts in your field, use social media to improve your job search with the ultimate goal of securing a job interview. You may not gain any contacts or benefit from employing this method, but with more employers getting involved in this culture, at the very least, you will have yourself out there, visible in the field.
Improve Your Job Search With Social Media
A buzzword on the internet is "
social media
" you can't go anywhere or do anything online without seeing the Facebook, Twitter, or LinkedIn icons. So why not take advantage of their ubiquity, and capitalize on their success by using social media to improve your job search?
It is a common fact that most recruiters in the current
job
market perform internet searches in their hunt to find employees. What you post online about yourself makes a big impact in the business world. Using these websites is free advertising for your
skills
and services, and gives you the chance to market yourself to virtually any company in the world.
Using social media as a business professional goes well beyond listing your accolades and certifications. Recruiters will view this form of communication to get to know your personality and character traits before they even qualify your abilities.
Think about how much information you can learn from a single Facebook profile. Your picture, a detailed description of your likes, dislikes, interests, and favorite places are all available to the casual viewer. If you clean up your profile and verify that all of your posts are used appropriately for professional advancement, you could make a company want to hire you before they even meet you face-to-face.
Career Help Center
Strategies to Improve Your Job Search Using Social Media
Much of the information listed below are suggestions about how you can use these techniques in a professional setting. They can be used as tools to help with your
job search
. That is not to say that all these ideas will work for you, but they are certainly worth considering.
It will take some time to execute your plan to use social media to improve your job search effectively. Correctly using these three major sites for networking may take a bit of time. You may find that when you use them without error, you can improve your job search and have an easier time securing that interview.