Job Interview Tips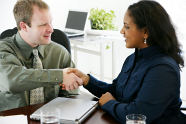 Do you know how to act and what to say before, during, and after your job interview? With these tips describing how to dress and how to carry yourself, including proper body language you will. The job interview tips listed here may be the ticket to tip the scales in your favor and get you hired.
Helpful Job Interview Tips
We have broken the interview process down into a timeline that starts before the interview appointment and continues to what to do afterward. Many of the job interview tips are plain old common sense and etiquette, from dressing appropriately to
answering questions
with confidence. Our goal when assembling this list of job interview tips was to offer some aid that may make the difference when you need that little extra to get the job. Need more details on
mastering a lunch interview
?
Career Help Center
Just like when you invest your money, what you are doing during this process is investing in your career. You want to diversify and have many possibilities available. Be positive, but continue to search for more prospects. Plan as if you won't get the job. You may end up getting a better deal somewhere else, and if this one falls through, you will have other opportunities lined up. You won't have been idle and unproductive. Now it seems employers can use your
credit report
as an additional criterion in the applicant selection process. We intend for these job interview tips to make a difference in your
job search
, good luck!