How to Dress for a Job Interview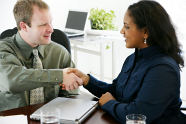 To get attention and be taken seriously in the business world discover what to wear and how to dress for a job interview. Use this guide to become a more versatile dresser without spending more money!
Dress for Success at Your Job Interview
In most cases, you are presenting or marketing yourself to a company during an
interview
. What the recruiter is going to
notice
first and foremost is your appearance. Dressing for success is more than a clichéd phrase, how you coordinate your appearance carries some weight on the hiring decision.
What to Wear to a Job Interview?
Career Help Center
Business Attire: How to Dress for a Job Interview
Research Job Culture
You are not expected to magically know what to wear to a job interview, especially if you are new to your field of work. Each industry has its own set of regulations for the dress code.

People generally tend to be more conservative with their attire. You are a professional and should not let anything get in the way of people treating you with respect. If you look online or ask someone who is working in the type of industry in which you are being interviewed you can scour your closet or go shopping to build your professional wardrobe.
Be a Savvy Dresser
It is tempting to go to a department store and spend large amounts of money on work wear. These clothes are a necessity to maintain your employment, and it cannot be stressed enough how important having a well-kept appearance is. However, you won't need to spend large quantities of cash on clothes, especially if you are initially buying them for the meeting.

Luckily, there are tricks that you can use to look great and save money! First, you need to get yourself a great suit. Shop at outlet stores or wait until that category of clothing goes on sale to get a great outfit. An important aspect of the suit to take note of is the cut. There may be a trendy or bold cut that is in style for the moment, but in five years it will be outdated. Stick to the classics and find yourself a staple suit that you can use for years to come.

After you have purchased a suit or two, you only need one at this point. There are additional actions that you can take to change your look so that people are unaware that you only have one or two work outfits. Use accessories to change your look. For example, change your collared shirt, watch, scarf, or other various jewelry to create noticeable differences in your style.
Women's Interview Dress
There are a lot of aspects of an interview outfit that can go horribly wrong. If you follow these guidelines you will be on the right track to impress the interviewer.

Suit:

Choose a solid, muted color. A conservative cut is a must, but you may either wear pants or a skirt. If you choose to wear a skirt make sure that it is not too short or too tight. You must be able to sit comfortably in it. Also, you should wear neutral colored stockings underneath the skirt without any patterns (e.g. an undesirable example would be fish net stockings.)

Shirt:

Wear a matching blouse or other button-up-style shirt, make sure that it is not too tight.

Shoes:

Select matching high heels, 1-1.5″ do not exceed that height. Peep toe style heels and flats are acceptable as well.

Jewelry:

Allowed- a watch, small necklace, a few rings, and stud or small dangling earrings.

Makeup:

Natural-looking and moderately applied. Also, do not use too much perfume.

General Appearance:

A neat, clean hair style, clean and manicured nails.

Bag:

A briefcase or messenger bag.

Men's Interview Dress
For examples of appropriate men's attire we have listed each article of clothing with accompanying descriptions for each piece.

Suit:

Wear a solid color, minimally patterned suit.

Shirt:

A button-up shirt in a conservative color. Do not go for a bold, obnoxious color much like the trends.

Tie:

An appropriately matching, non-flashy tie.

Shoes:

Leather, shined dress shoes with matching, clean, dark colored socks.

Jewelry:

A watch, ring, try to avoid wearing a lot of jewelry.

General Appearance:

A professional, clean hair style. Trimmed, clean nails, and a clean-shaven face and neck.

Bag:

Briefcase or messenger bag.

Dress for Success
In addition to dressing like a business professional, your hygiene and skin must also reflect such. Maintain a neat and clean appearance so people will take you more seriously.

Make sure that your skin is ready for a professional lifestyle as well. Cover up any tattoos with makeup or clothing and remove any piercings to more easily fit into the business environment.
In the world of business, first impressions are everything, and what most people will judge you on first is your appearance. Don't let your clothing become a distraction during something as important as an
interview
. Follow this guide to learn how to dress for a job interview and good luck getting the position! After the meeting, it is standard practice to send the hiring manager a thank-you letter for their time. We have an online creator to help you write one, click the button below. This link will take you to more
help to build your career
.