Resume Writing Tips on How to Write a Resume in 2023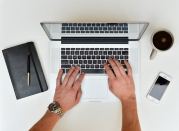 Do you need help and tips to
write the perfect resume in 2023
?
Resumizer's free resume writing tips will help you learn what employers are looking for from a job applicant's resume in 2023. Our guide is loaded with useful information that enables you to write a resume that is effective and gets results! Unlock your full potential and demonstrate the power of your resume with these free tools.
This tutorial explains how to write a resume and will teach you how to create an award-winning resume. This guide has been newly updated for 2023. If you're not sure where to start, see more of our
career tools
.
Resume Writing Help and Quick Tips Guide
Career Help Center
Writing a Resume for 2023
Your resume is the determining factor for whether an employer will contact you for an interview or call someone else. When writing your resume, be sure always to follow current practices that employers are accustomed to seeing. It can be effective to show creativity, to stand out, but going too far could alienate you from consideration. This guide will set boundaries for what employers expect by providing examples of successful resumes that will put you on the right track for interview success!
With the competitive job market, resume writing has never been more important than it is in 2023. Finding a way to get attention from recruiters without excluding key pieces of information or revealing too much can help you get an interview. Remember, landing the interview is the first step to getting the position that you truly desire!
Tips for Creating the Perfect Resume in 2023
Choose a good theme/template to work with: Look for resume examples to see what others are using. Be sure that the resume template you choose is specific to your industry. Your resume should be clear and easy to read.
Be smart with your font selection: Comic Sans looks good on a child's birthday card, but not on your resume. Stick with standard fonts that are clear, professional, and easy to read. You can never go wrong with a font like Times New Roman, that is 12 points in size.
Make your profile or objective clear: If you don't know what job you want or who you are, how do you expect an employer to know? Be clear, detailed and precise.
Tighten up your wording: Write your sentences using 12 words or fewer while employing keyword optimization.
Don't let it run too long: Limit your resume to one page. A two-page resume is only acceptable provided you have much relevant experience and have been working in your field for many years.
Salary: Please do not enter any salary or wage information here. It goes on the job application. There you may enter TBD (to be determined) as your requested salary, so you don't inadvertently pigeonhole yourself into a lower wage than was initially being offered. Additionally, you could lose the ability to negotiate fair compensation. The job's requirements, as well as the amount of experience you have, and the average of what others are receiving as a salary, determine appropriate compensation.
Save as a PDF: Save your resume as a PDF to send to employers, instead of a Word document. A PDF will ensure that the formatting is consistent, you won't look at your printed copy and notice that your bullets and tables are astray.
Finally, it is important to note that you may not hear back from an employer after you send them your resume. If you do not hear back from them, do not immediately get discouraged; though it is typical in current practice not to get notice of rejection. Don't give up and press on!
How to Format a Resume
Use standard 8.5″ x 11″ paper.
Use white, ivory, or gray paper.
Set one-inch margins on all four sides.
Fancy fonts with outlines, scripts, and shadows should be avoided; view our guide to selecting the best fonts or our video on choosing fonts. We offer easy to read fonts to use with our templates.
Fancy artwork or backgrounds should not be used as they tend to distract the eyes.
Enter your data using single spaces within each section. The Resume Creator will do this for you if you press the Enter key once after each line you type.
Make your headings bold, underlined, or capitalized to make them stand out. Our templates (template tutorial) already incorporate this feature for you.
Each entry in the sections should have an asterisk or bullet at the beginning. Our Free Resume Creator does this automatically when you press Enter after each entry.
You will want to arrange your sections in a way that produces the highest impact for delivering your info to the employer. You may read our section sorting and formatting troubleshooting guide about how to optimize a weak education or job history. View our Sort Order Video.
Resume Sections to Include on Your Resume
Resume Mistakes to Avoid in 2023
Adding References:

Personal references should be placed on a separate sheet with the same heading, font, and overall formatting as your resume. Putting them on your resume is not appropriate and it only makes the page longer. Make one using our Reference Page Creator. Bring your references with you to your interview.

Not being specific enough:

If a prospective employer cannot understand what you have written, they will toss your resume aside, even if you are more than qualified.

Being too vague with your experience and work history:

Merely stating that you are "hardworking" doesn't help you stand out from the rest of other applicants. Be descriptive about yourself and create your own identity.

Not focusing on accomplishments:

Focusing on what your duties were at your previous jobs instead of your accomplishments will hurt your chances of getting an interview. Your duties can be described as what is expected of you to do your job. How you accomplish completed duties and went above and beyond will help you rise above the rest.

Grammar mistakes:

If an interviewer sees your resume and finds errors including but not limited to: spelling, punctuation, and layout, then chances are, your application will be rejected. If you can't start with a good first impression with the company, why would they want to move forward with you?

Your resume is too short or too long:

A resume with little experience, history, or details could be ignored. A resume that is too long could also hurt your chances of being chosen.

Check your contact information:

Make sure the information on your resume is updated to reflect your current name, address, phone number and email. If this information is incorrect, then the employer will not be able get back to you to hire you, and you will miss out on that dream job.
From the information you can gather here, you will see it is not as challenging to learn how to write a resume as you may have thought. Please make use of our creators, tutorials, and videos to make writing all these necessary pages a less stressful endeavor.