How to Write Resume References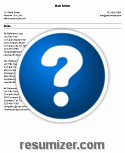 Our simple guide explains how to write resume references and how to choose the best contacts to use as references. Write a page that lists your contacts' information in the proper format.
Write a Resume Reference Page
It is important to use the names of people that were instrumental in advancing your career. It essential to have the people you choose give you a
glowing recommendation
. Before adding someone to your list, make sure you ask for their permission first. If appropriate, discuss with them what they are planning to say when they are asked to speak about you. This verification process will ensure that what they will say is going to benefit you in your job acquisition.
Career Help Center
This is How to Write Resume References
Reference Page Format
For a hard copy it is customary to use a light colored, resume paper which is commonly available in 24-pound or 32-pound weights. If you purchase a box of this paper, it will normally come with matching envelopes. Buy enough paper so you can use it for your resume, cover letter, and reference page. You will most likely be sending out more than one set of documents so get enough for that too. The high-quality paper will establish a professional look when all of your documents use the same matching paper.
Resume Fonts are another formatting choice to consider. It is common for companies to scan these types of documents into their system electronically. The use of common fonts will make it easier for the hiring manager and the scanning program to read your page. You will want to make this as easy as possible to read by both humans and machines.
Darker fonts are generally used, try using blue or black.
Use single spaces for each contact's details.
As with all of your resume documents use one-inch margins on all four sides.
Use double-spacing between each listing to separate them.
Most companies want to see at least three contacts listed, so include three to five. Don't add too many. We are going for quality here not quantity.
Reference Sections
Your Contact Information
Your contact information at the top of the page should be the same as what you wrote on your resume and cover letter. Add basic contact information like your full name, street address, telephone number, and a professional sounding email address. More information about how to fill out the Contact Info Section can be found by watching our Resume Contact Info Video and Example.
Add Your References


Full Name:

Write the full name of the contact you are listing.


Company Position:

What position do they hold at the company where they currently work?


Company Name and Address:

Write the company name and full street address or their home address if it is a personal reference.


Contact Number:

Add the contact's telephone number.


Contact Email:

Add the contact's email address.


Affiliation:

Lastly, write a sentence about the job you performed for this person. You will include how you know this person and your affiliation with them.

When writing this part optimize it by customizing what you write and make it applicable to the job you are seeking if possible. Use keywords from the job description in all the documents you create while applying for the job. Anything you can do you make yourself more relevant to the job will increase your chances of getting hired.
Fonts and Colors
Use the same style, font, and colors that you used on your resume and cover letter. The continuity of font usage provides a professional appearance to your documents. Watch our Font and Colors Video for more information on this topic.

If you get an interview we can help you with that too; read our job interview tips to learn how to dress, what to say, and how to carry yourself. It is important to be prepared and to be at the top of your game, there is a lot riding on this. If you do your best and be your best you can't expect any more from yourself.
Do you need guidance explaining how to write resume references and wish to enjoy the ease of using a program that is as simple as typing your details into the blanks? Then simply click the button below to get started creating your
resume reference
page.