Reference Page Writing Video
Watch how to compose and layout your reference page with our reference page writing video. Build your page so the employer can easily get your references contributing to a smooth interview.
Writing a Reference Page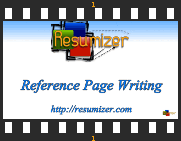 If you can deliver a document that can add to a successful interview, it may demonstrate your efficiency and preparedness to the interviewer. Having the information needed to put together a nicely formatted reference page effectively can be obtained by watching our reference page writing video. You will be better equipped to concentrate on the important details that are necessary to include while writing by understanding the construction and formatting process.
Providing the interviewer with a list of your references should be something you do well. Knowing there will be no problems with the references when the employer reads them brings much peace of mind. We will show you how to make a page that is neat and orderly, therefore increasing your chances of getting hired.
The various elements that comprise your reference page are listed, so you will know what each element is. The help provided in this reference page writing video can explain how to format your page, to present your references in a neat and polished manner. You could also try our
Free Reference Page Creator
to streamline the process.
The elements to include:
Your Contact Information: This consists of your full name, mailing address, telephone numbers and email address.
The Contact's Name: We need to put down the person's full name. Follow the same format as was used for your contact info.
The Contact's Position: It adds more credibility to your referral if the contact person is in the same field as yourself. A past employer who has good things to say about you is what you want.
The Contact's Company: The company where the person works. It's better if it is a high-level company in your field, it provides more clout.
The Contact's Company Address: The mailing address of the person's company.
The Contact's Company Telephone: The telephone number for the contact.
The Contact's Company Email: Enter the contact's email address so the employer can email them to ask questions about you.
The Contact's Affiliation: How do you know this person? Write about what you did for them or what they did for you.
Some articles that can be helpful when constructing these documents:
Reference Page Writing Video
All Videos >
Resume Creator Video >
Cover Letter Writing Video >
Watching us create a page from start to finish can give you a better explanation of the proper way to complete this task. You may have read all of our guides but still have questions about writing this document. Here you can visualize the process of how to write as someone describes the procedure instead of interpreting it from a written tutorial. If you do end up being confused about making this page, you can fall back on this resource. Alternatively, just cut to the chase and watch it from the beginning then move on from there. Also, remember our
free creator program
is always here if you need it!