Resume Creator Video
Resume Creator Video to watch as we show you the features our system provides and the free services we offer. Resumizer will offer you help through these videos, guides and tutorials.
Resume Creator Intro Video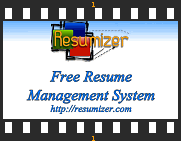 Welcome to Resumizer.com. The Free Resume Management System where you can create, manage, and share your resume. Resumizer provides the tools you need to create your resume, cover letter, reference page, networking business cards, interview thank-you letter, and resignation letter.
This training video will teach you how to write your resume using our suite of resume management tools. Resumizer is completely free! Included are our features such as; our collection of resume writing tools, online resume posting, and career help resources. Resumizer has provided all these services, and more, for free since its inception in 2006. Click the link if you would like to learn more
about Resumizer
.
We are pleased to be able to provide help to those who need it, all without any costs to the guest who needs it. Resumizer was created on March 31st, 2006 and from that day until today we have not taken one penny from our guests. If you are in need of a service like this, then we are here to help. Using our videos, tutorials, guides and creators you can get the information you need to complete a quality resume, cover letter and much more.
Get started by watching this movie and progress to the next one by following the link below. You can view the whole series which describes how to build it using our system. There is general info which can apply to any method of creation. Use our templates or our management system whichever works best for you, we are here to help you through the process.
When you are finished building your resume you can move on to create your cover letter and reference page if you need them. When entering your data into an online job application they may ask for your references so the need to create a page for them may be unnecessary. On the other hand, it may be wise to create one in case the employer asks for it during the interview. The same goes for a cover letter it doesn't hurt to be overly prepared it is much better than being ill-prepared and not up to the task.
Lastly, begin to gather together your facts and figures needed to write this page. Verify the accuracy of each piece of information that you plan to write. Double-check that all the industry terminology is spelled and used correctly. Ensure that your grammar and sentence structure is done correctly you will be judged by how well you write.
These tips and more can be found in our help library which shows optimization techniques and strategies to make the most of your employment and education histories. Get started by watching the movie below!
Resume Creator Video
All Videos >
Tips Video >
Style Video >