Resume Style Video
This video explains how you can use formatting to optimize your resume. Our Resume Style Video will describe how to choose a resume style and how it can affect the way your information is displayed. The effective use of white space and taking advantage of different formatting options can further optimize your resume.
Choosing a Resume Style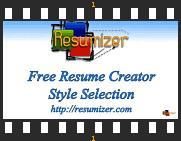 The first section you will see when using the Resumizer Free Resume Creator is the "Style" section. Here, you will choose from any of our 30 different styles. They are all free, none of them require an upgrade or surcharge because there is none. Each style has different features; such as lines, monograms, your photo, and colored headers.
The formatting of your information is also different for each style. There are different features and functions contained within each one. Changing the formatting is a useful way to optimize your information to emphasize the stronger areas and de-emphasize the weaker areas of your resume. Keep in mind that when you are looking at our style examples, you can customize the colors, font, photo and section formatting to satisfy your needs.
When choosing a style, choose one that will display your information in the easiest to read, most visually pleasing manner. You will want your resume to contain a fair amount of white space on the page. This will help separate each section and provide a rest for the employer's eyes. This will help the employer quickly glean the information they are looking for, within the 20 seconds they will spend reading it.
After you have entered your information and made your personalization choices; you can preview your resume with each style, to find the one you like best. You will find that the styles will look different from our examples when they are displayed with your information and personal choices. It is recommended that you try all the styles before you decide. This can easily be done by trying all the templates. You are bound to find that for your field some of them will be more effective than others.
In the next section, we will talk about how to optimize the way in which your information is displayed within these templates. Here are some related articles that can expand on selecting a template. For further customization you can use these templates and arrange your information to organize it for a greater level of effectiveness. More than just a basic layout you can change it around to get the most out of it.
You can either use our program and write it that way or you can download Word templates and work on them unaided using your own word processor software. Click on the templates link below to be taken to the main page. From there you can look at each example page and download whichever ones you like. You are not limited on what you can download.
Resume Style Video
All Videos >
Creator Video >
Sort Order Video >