Resume Sort Order Video
View now to learn how to sort the information on your resume by watching our Resume Sort Order Video. Optimize your information to be more relevant to the job you want. This video shows how to organize each section. Choosing the best sort order for your information can go a long way toward getting hired. Having what you have to offer presented most effectively may help make you look more professional than your competitors.
Choosing the Best Resume Formatting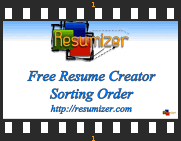 When using the Resumizer Free Resume Creator, the Formatting section will give you the freedom to decide how you want to arrange your information on your resume. With six options to choose from, you can change the order in which you display your details on your resume. Each option will organize your information with a different sorting order.
Changing the sorting order (formatting) can place your most relevant skills, experience, and training closer to the top of the resume. This section is where you can optimize the placement of your employment history, skills, awards, experience, and more to fit the job you want. Depending upon the relevance of your skill set, training, and experience, you may want to promote one or more sections more prominently than the others.
If you need to rely more heavily on your past job experience because you never had much training, you can do that. Are you are fresh out of school? If you don't have much to offer in the way of job history, you can put your education at the top. You will need to determine your strengths and weaknesses and make the best of what you have. Discover what the company posting the job is looking for and try to fulfill that need with your skill set. Organize your info to fit that need best. You can always try to build your value with additional training and experience. Organizing your info with a compatible sort order may help reach that end.
On the Sort Order page, the examples will show you how each choice arranges the sections. Evaluate the examples, bear in mind that if you leave an entry empty, your page won't show it. With this knowledge, you can choose the example that best addresses your needs, remembering which entries you will use and which you will keep blank. Of course, you can change the sort order at any point in the development process.
After you complete your resume, you may want to experiment with different sorting orders to fine-tune your resume. Switching between the different selections will change the arrangement of your info. You may find that you end up with a different choice than you first thought.
We have two articles that go into further detail about how to choose a sorting order. Should you use a functional resume, chronological resume, or combination resume? You can find them at the addresses shown here. In the next video, we will talk about the contact information you should include on your resume.
Resume Sort Order (Formatting) Video
All Videos
Style Video
Contact Info Video