Free References Page Creator Online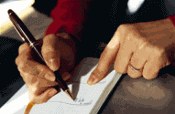 Choose a References Page Style
If you are looking for a job, you will need to have references. Our Free References Page Creator will instantly create, print, and download your page at no cost, like your resume! Our generator will enable you to produce a free reference page that will complement your resume and cover letter.
You can use any of these styles with our resume, cover letter, and our other letter builders too. The same is true for the features, colors, and fonts. If you have used any of our other programs, you already know that you can create a complete array of documents. They will help to satisfy the demands of your job search.
You can easily add, delete, or edit the contacts on your free reference page. Update your page whenever you change jobs or as you require to assemble the most relevant group of contacts for each specific position. If it becomes necessary, you can edit your document by loading your contacts' names and addresses into the program using a downloadable Edit file. Please open it, and one click will reload your info back into the system. This method of re-entering your information lets you use the Free References Page Creator with minimal effort. You will have to agree; one click is about as minimal as you can get!
This program will not store either your information or your contacts' information in the system. There are no mandatory requirements to use our Free References Page Creator. The program won't add options unless you want to add them. That applies to our Free Resume Creator and our other creator programs too. That's the beauty of Resumizer, no mandatory requirements, nothing to buy, and no cost. Moreover, you don't have to go anywhere else; you can also create your other job search documents here online at Resumizer.
Instructions: To pick your desired style format click the example image you like best for your reference page. Preferably use the same one that you used to create your resume. For more style choices, click the "All Styles" button. If you are happy with your choice, click the "Next" button at the bottom to move to the next step.
References Page Style Selection