Interview Thank You Letter Creator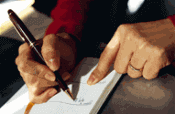 Our Interview Thank You Letter Creator will help you write a free interview thank you letter. Show your appreciation to your interviewer. If you don't know what to write, our creator can help. Many times it is helpful to send an interview thank you letter to the person who gave you the interview.
Interview Thank You Letter Creator
Now you can put your name back in front of the employer's field of vision to remind them about you. Hopefully, this will help to make your name stick in their mind. When applying for a job, you want to use every means possible to keep your name in the forefront. It could make the difference when it comes time to choose an employee from a stack of resumes. Using our system, you can create your
free resume
, cover letter, reference page, and networking business cards. Use this tool, along with all the other free resources we have available.
Interview Thank You Letter Creator Features
Usage of this program is free, there is no charge to write or to download your letter.
There is no limit to the number of interview thank you letters you are allowed to write.
This program and all its features are available for use at any time.
Contact information will be automatically entered into the Interview Thank You Letter Creator from the My Resumizer Management Center.
This creator is also integrated into our other resume related tools if you choose to take advantage of the entire system.