How to Write a Thank You Letter for an Interview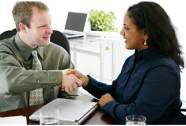 Discover when it's necessary to write a thank you letter in the job interview process. As well as which format to use to make an impression. Here is how to write a thank you letter for an interview.
Write and Format Your Interview Thank You Letter
Completing the job interview process is tedious and tiresome, but even after your interview concludes, one final step remains, the thank you letter. Expressing your gratitude is crucial to perfect a polite image and solidify a conclusion to an interview. Small gestures made now can pay off big later when one of these people gives you a job.
Career Help Center
Step-by-Step Guide to Writing a Thank You Letter for an Interview
Why Write a Thank You Letter?
You may be wondering why the interview process requires the additional step of composing a thank you note. Perhaps you were considering skipping it, especially if your interview went poorly. Thank you letters are necessary to introduce yourself as a courteous and professional individual. The writing should demonstrate your appreciation for the company's interest in you and the time they spent on you.

In addition to resembling an affable and cordial person, you may also use this opportunity to restate your qualifications and aspirations about why you would be a wonderful fit for the company. Remember to use action verbs and keyword optimization when writing about your abilities.
When to Write?
Generally, you should compose a thank you letter and send it within 24 hours after an interview. Follow up by thanking your contact after these various situations:

Job Interviews
Career Fairs
Informational Interviews
When a reference speaks on your behalf

Concluding your meeting in this way is not only polite but expected. Using proper business etiquette is the way to go when you deal with people in a business environment. It is important to have a good reputation. You never know, if one of these people will give you a job or you may end up working for them in the future. This reason is why you must show courtesy and respect to the people who are helping you. Which includes sending them a letter of thanks for all that they have done.
Which Format?
There are three mediums of thank you letters that may be required, all of which have different meanings: handwritten, hard copy, or email.

Handwritten:

This format is the most personal and should be reserved for people with whom you are fairly familiar.

Hard Copy:

This type is by far the most formal, and expected after a job interview. There are examples that display how to properly format the letter as well as what to include.

Email:

This method should be used if your contact has specifically requested to communicate this way. An email may also be sent in addition to a hard copy.

When to Follow Up?
Sometimes an inordinate amount of time passes, and the company has yet to contact you. If more than a week goes by without a response, call, or email (use the company's preferred method,) to inquire about your interview status.

Mention your interviewer's personal information as well as where and when your interview took place. Then, the only thing that you can do at that point is to wait for the company to follow up. It may be nerve-racking, but unfortunately, there isn't much else you can do. The employer will either contact you or they won't. The ball is in their court, and they know it! You don't want to make a pest of yourself by constantly bugging them. You won't want to come off as desperate and annoying do your best to be patient.

To cover your bases, keep looking for and applying for other jobs. If this one falls through, you will have other opportunities lined up. Diversify your job search by avoiding having all of your eggs in one basket meaning don't base your future on one prospect. Comprehending the process of writing a thank you letter for an interview and doing it well can improve your chances of creating friends in your industry. They may prove useful in the future.
Learning how to write a thank you letter is one of the essential skills that you must attain to successfully undergo the
job
interview process. Presenting yourself politely and professionally ensures a lasting positive impression in the eyes of every employer that you meet.
It is not a problem if you don't know where to begin. Using this simple to follow guide together with our creator program, you should be able to generate a quality document that can aid in your job search. To begin creating your letter online using our free creator program, click the button below.