Thank You Letter Example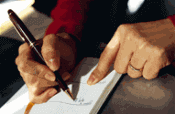 Get this thank you letter example template that you can copy and modify to write your own thank you letter. It is easy to personalize and adapt it to the position and company for which you interviewed. It is much quicker to start with a thank you letter example than to write one from scratch. You may also use our free Interview Thank-You Letter Creator. Download this example. It is also built-in to our creator program, so if you would like to be able to fill in the blanks and create your letter that way, you can.
Free Thank You Letter Example Template
If you want to go it alone then you can do that too, use this template to get yourself on your way to getting this done. Why reinvent the wheel? Take what has already been created by us and use it to help yourself get a job. We are more than happy to be able to assist our fellow job seekers. This template can be used to write as many of these pages as you need.
We show the template example below. Now download it, then rewrite it. This example contains the basic idea of what comprises a thank you letter. Change out the interviewer's name and company contact information placeholders to that of your own. Substitute the applicable bracketed words we used to others that are relevant to your industry and situation. Also, don't forget this can be another opportunity for you to mention a valuable skill or accomplishment you think is critical for the employer to know about you. When you write this key fact incorporate
action verbs
and
keywords
to more firmly drive your message home.
Make the interviewer happy by showing your appreciation and the proper respect by taking the time to deliver this page to them. For a greater level of assistance you may be interested in reading our
How to Write a Thank You Letter
article or use our
Free Interview Thank You Letter Creator
. Use the same paper for this hard copy, as you used for your resume. For all document formats, including paper and electronic, maintain the use of the same style, font, and colors, as was used on your resume and cover letter. You might like to check out our other
Career Help Center
resources and videos to assist you with your job search and acquisition.