Terms of Service Agreement Resumizer.com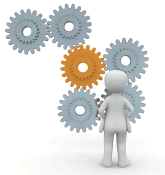 Resumizer.com describes the conditions upon which our visitors may use the content available on the Resumizer.com website. This Terms of Service Agreement describes the conditions under which our visitors may use the materials found or created on Resumizer.com. Resumizer.com and its administrators assume no responsibility for errors or omissions in these materials. These errors include any information contained within our member's online resumes, all of which we may remove at our sole discretion.
This Terms of Service Agreement may be changed or updated as we deem necessary. It is important that our visitors periodically revisit this page to keep themselves apprised of those changes.
In simple terms, if you are unable to agree with our policies, please don't use our services or download any content from Resumizer.
We provide these materials "as is" without any warranty, either express or implied, including but not limited to, the implied warranties of merchantability, fitness for a particular purpose, or non-infringement.
TOS for Resumizer.com
Last Updated: Frebuary 05, 2022
Resumizer further does not warrant the accuracy or completeness of the information, text, graphics, links, or other items contained within these materials.
Resumizer shall not be liable for any special, indirect, incidental, or consequential damages, including without limitation, lost revenues, lost profits, or lost job opportunities, which may result from the use of these materials. The information on this site is subject to change without notice and does not represent a commitment on the part of Resumizer neither now nor in the future.
Resumes that are generated by our Free Resume Creator on the Resumizer.com website are freeware. That means you can use the resumes you create for your own personal use to gain employment unless otherwise noted. You may post your resume on the internet on a website or anywhere else as a vehicle to relay your personal and employment information. You may transmit electronic and hard copies of your resume to anyone you deem necessary for you to gain employment.
The resume and other document templates remain the property of Resumizer. You are not authorized to rent or sell the templates. You may not include the templates on websites, in collections, or create derivative works from our templates or the materials on this website. In simple terms, you do not have permission to take any of our templates and use them in your derivative works. If you are found to be in breach of this Terms of Service Agreement, you agree that you will be liable for all financial remedies. Any and all damages of any kind, from any cause arising out of your use or misuse of these materials, is your responsibility. If for any reason they damage your computer, business, or job prospects, we are not responsible, always virus check your files first.
Be aware that if you post your resume online your name, email address and any other information you decide to enter on your resume will be publicly viewable by anyone who visits this site. These visitors include other members, employers, and casual visitors. It will also be publicly available to search engines that visit and index the pages of this site. Your house number, street, and cell phone number will NOT be published online. If you make your resume Private nothing will be viewable online except by you. You must be 18 years of age or older to create an account.

If you are not comfortable with your resume being public, you can set the "Make My Resume" selector to Private on the "Save to Account" page. If you log in to your management account you can also set it to Private on the "Edit Profile" page by setting the "Make My Resume" selection to Private.

If you use this system, you accept any and all risks that exposing your information may cause. Resumizer and its administrators are not to be held liable if your use of this system inhibits or causes any user to lose an employment opportunity or anything else. This applies to any malfunction of the site, program, or design that causes a private resume to become public, including instances of hacking and program abuse. You assume all risks and hold Resumizer.com and its administrators harmless, without any liability. Accounts not updated after a period of time are automatically deleted. Your membership demonstrates your agreement with these Terms Of Service.
If your jurisdiction does not allow for these exclusions please don't use any of our services. The goal of Resumizer is to provide job seekers with a quality resume, cover letter, and reference page in a trouble-free way. Then, we can focus on improving our service and helping more people.
It is each member's responsibility to keep their account contact information up to date. If account support is needed, we will use the email address or PIN associated with the account to ensure that we are helping the proper person. Be sure your email address works. If you send the request from our Contact form, the reply must be able to be sent to the email on the account. If one of these verification methods cannot be validated, we will not provide account support.
Resumizer displays advertisements from third-party companies that contain links to third-party companies. If you click on an ad for one of these third-party companies each has terms, which you should understand before you choose to use their services. Resumizer does not in any way endorse these third-party companies. Resumizer does receive compensation from these third-party advertisements. This compensation is what pays for our operating costs.
If you have any questions or comments concerning our policies please contact us we are pleased to address your concerns. Learn more about Resumizer or view these user reviews and testimonials.