Job Interview Questions: What to Expect and How to Answer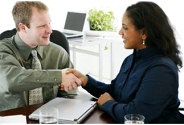 What to expect and how to answer Job Interview Questions. Arrive at an interview prepared with a working knowledge of the different types of commonly asked questions and your prearranged answers. Also, learn what is and what isn't appropriate to ask the
interviewer
during this time.
How to Answer Job Interview Questions and What to Expect
Interviews consist of questions being asked from both sides of the desk. There are common questions that can be expected as the standard, more challenging questions meant to put the applicant on the spot, and finally questions asked by you.
Poorly constructed
answers
can be detrimental to the acquisition of a job. It is imperative to present yourself in an intelligent and informed manner regardless of who is asking questions. Each facet of the interview process will help advance your professional career.
Career Help Library >
What to Expect and How to Answer Job Interview Questions
Common Questions to Expect
There are several types of questions that will be presented in an interview: personal or straightforward, hypothetical, and skill or knowledge questions. Each type should be approached from a different angle.
Personal
What is asked:

Tell me about yourself.

How to answer:

Are you capable of doing the work? How are you qualified to take on this job position? Are you motivated? What characteristics do you possess that demonstrates that? Can you work well with others? What team skills do you harbor?

What is asked:

Explain how you solve problems.

How to answer:

Recall an actual example in any work or volunteer experience and tell a story that illuminates your problem solving skills.

What is asked:

What are your weaknesses?

How to answer:

Try to sell yourself no matter what. Shed a positive light on something that you consider a weakness. Perhaps you work too hard and neglect to provide yourself with time off?

More info on how to talk about your weaknesses.
Hypothetical
What is asked:

Would you rather work on a project alone or in a group setting?

How to answer:

You could go either way with this, don't rule out one or the other. Explain that working with team members is something that you enjoy. However, you are of course, more than capable of handling a project independently.

What is asked:

Tell me, what is your dream job?

How to answer:

As far as they're concerned your dream job is at their company, but feel free to state a job title higher than the one you are interviewing for. Maybe with more experience you can move up.

What is asked:

What will your supervisor say when you give your notice at your current job?

How to answer:

Be sure to give reasons why your previous job will miss you. Describe yourself as an asset to that company, but don't forget to mention that you will respectfully give your two weeks' notice.
Skills/Knowledge
What is asked:

What do you know about this company?

How to answer: Make certain that you have researched the company thoroughly before going to the interview. Know their projects and major clients and speak of specific statistics.
What is asked:

Convince me that you are the best candidate for this job.

How to answer:

Include that you are invested in their company and explain your qualifications and incredible characteristics that make you a perfect fit for not only the company, but the job title that you will hold.

What is asked:

Have you ever had a manager that you didn't like?

How to Answer:

Explain that, like all people, you have had disagreements with your previous employer, but overall you worked well together and learned a lot from working with them.
Now Ask the Interviewer Questions
Asking your potential employer questions
during an
interview
is imperative. Asking presents yourself to be a confident and eager employee. Topics that are appropriate to ask about at this time include: future
promotion
opportunities in the company, job responsibilities, and specifics about company procedures. Remember you should know about the company's progress and recent success stories. Do not ask about any topics that you should have researched prior to the
interview
.
After reading this article, Job Interview Questions What to Expect and How to Answer, you now have a sense of what to expect and
what to do at a job interview
. You should practice answering variations of these sample
questions
to be more prepared for the real thing. Coming into an interview feeling prepared will boost your confidence and only help you in your
job
search
! Don't forget about the need to send a
thank you letter
within 24 hours of your meeting. You might also be interested in our
job interview tips
.