Informational Interviews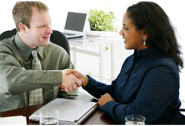 Learn how to effectively conduct an informational interview, and what questions to ask during an informational interview to make the most out of speaking with people in your network.
What are Informational Interviews For?
Participating in an informational interview is truly a priceless resource because, really, you have nothing to lose. If you are unsure of what career path to take, or you are interested in acquiring more contacts, the benefits are endless!
Career Help Center
How Do You Conduct an Informational Interview?
Informational interviews are tremendously useful resources of which to take advantage. Speaking to others and advancing your knowledge of an industry not only enhances your ability to market yourself in a traditional
job interview
setting more precisely determines where you would like to end up on your career path. Having a resource like this informational interview guide to map out a path for success makes it that much easier to advance one's career. Make a thank-you letter to express your gratitude to the person who gave you the meeting by following the link here: