Master Your Next Phone Interview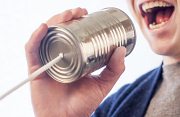 Get the skills needed to master your next phone interview. Use our tips to advance to the next level to an in-person meeting. Master the skills required to prevail at your next phone interview. Use our phone interview tips to progress to the next step in the process to meet in-person.
Phone Interview Tips
Being interviewed over the phone can be an intimidating situation. Most of the time, it is intended to narrow down the candidates to determine who should move to the next step of the interview process and meet in-person. More companies employ this method to cut down on travel costs for out-of-town applicants. Regardless, interviewing over the phone is important, and does differ from face-to-face interviewing. That is why being aware of these tips will make you confident and relaxed during your important phone call.
Career Help Center
Tips for a Successful Phone Interview
Preparation
Just like with any other type of interview, preparation is important, but what makes preparation for this type so crucial is that the call can occur at a moment's notice.



Find a quiet place: it is important that when you are speaking, you are not interrupted by anyone or anything. Find a place where you know you will be able to talk privately without being disrupted by anyone.
Remove all distractions: this includes friends and family members, pets, television, radio, or any object that may become a distraction while you are on the phone.
Turn call-waiting off, this action is something that you may not have considered. If you are listening to a potential future employer and you suddenly hear the beep of call-waiting, they are not going to be happy.
Keep a pen and paper handy because you never know if the interviewer may say something that you must remember. If you are having a conversation, it is safer to write it down. Then it isn't possible to forget!
Keep your resume along with a short list of your accomplishments in front of you in case you are required to refer to those documents to mention one of your strengths.
Check your service quality if you are using a cellphone. Check the number of service signal bars that you have in the exact place that you are planning on taking the call. You don't want to get cut off mid-sentence. A wireless phone is not immune to dropouts. It may be better to use a landline if you have access to one.
Practice makes perfect have a friend or family member call you to practice with a mock phone interview meeting.
Make sure that the place you choose to talk is relaxing and comfortable. Also, take time to adjust the volume so that you don't have to worry about hearing the caller.

Interviewing Over the Phone
After all the steps of preparation have been taken, you should feel more secure about taking the call. There are a few phone interview tips to master that you should take note of as you are actually taking the call.



Speak clearly this cannot be emphasized enough! If the other party can't hear what you are saying, then the interview meeting is pointless. Telephones are not always the clearest sounding devices so take that into account.
Keep a drink close by in the event that you cough or get a sudden "frog in your throat," you will want to have a drink to clear it up and continue the interaction.
Don't eat, chew gum, or do anything with your mouth except speak.
Make it personal to encourage the employer to meet you meet in-person, after all that is the ultimate goal of the call.

Afterward
Although this type of interview might seem unconventional, it is becoming more commonplace as travel costs increase. It is important to treat it as if you had appeared in an office and had gone through a typical face-to-face style of interview.

Say thank you and make sure that, like a regular meeting, you send a thank-you letter to your interviewer thanking them for their time and once again advocating that you should have the chance to meet them in-person to continue the process.
These phone interview tips can minimize much of the preparation and hard work that is involved when participating in this situation. However, with this guide, your experience can be a lot easier to do and more professional. Knowing our phone interview tips may even help you get hired provided you implement them correctly. To make writing a thank-you letter an easy feat, you are welcome to use our Thank You Letter Creator, click the " Get Started" link.