How to Succeed at a Phone Interview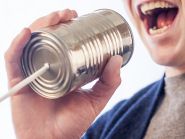 In this fast-paced world you must know how to succeed at a phone interview. Sometimes interviews are conducted over the phone instead of a face-to-face interview. One of the most popular forms of interviews that are not conducted in person are carried out over the phone this practice has become quite common.
Be Successful at Telephone Interviews
Phone interviews may seem to be a bit easier to participate in than conventional interviews, but without specific procedures and methods followed, you may never reach the next step of the interview process.
With a few tips and techniques you will learn how to succeed at a phone interview and what you should do next. Generally, this is used as a screening process to determine if the candidate is a good match for the company. If the employer finds the candidate to be a good fit this way, then the next steps will be taken and
personal
contact will commence.
Career Help Library >
How to Succeed at a Phone Interview
Succeeding during this process results in your advancement to another, usually face-to-face
interview
. Following these tips and suggestions may yield you some success during this process.
Have Necessary Materials Available
Before you begin your phone interview you should be properly prepared by having the right materials in front of you. Although you should avoid the many distractions that can come from taking calls at a place that you choose, don't be afraid to have the internet available while you are speaking.

Keep the company's website on your screen as well as a search engine to quickly discover answers to questions that you may be asked. This will give you more of an advantage than if you were speaking to someone in person. If you are going to be using a computer while speaking though, be sure to keep your typing at a low volume. You shouldn't appear to be distracted during the conversation.
Have a Reliable Communication System
If it is possible try to use a landline phone while speaking. Many people no longer have access to landlines because of the switch to cell numbers. Make sure that the network coverage is sufficient to not have choppy call quality if you are forced to use a mobile device.

A good option for cell phone users when they are not able to obtain decent cell coverage is to use a Wi-Fi calling option available through some models. This will improve your coverage and act as a backup for your network.

Finally, make sure that your voice is clear and the audio is correctly set so that you sound appropriate for the interview.
Set Aside Time
Many people feel that since they don't have to physically be anywhere specific for this call that they can fit it in anywhere during their day. You should take time and set up an appointment to dedicate 100 percent of your time to the interview.

Stay home, or in a quiet place with adequate reception that way you have the power to control the background noise and the volume in which you may speak. Don't try to squeeze the call into a break because if your interviewer is running late you may not have sufficient time to complete it.
Control Your Surroundings
Remove all distractions around you when speaking. This includes pets, children, and other noisy individuals. An interviewer shouldn't have to put up with barking dogs, screaming kids, and yelling spouses during the call. Invest in a phone with a noise-canceling microphone if possible.

Since you have the choice as to where you are able to take your call, control how you answer it. Avoid an awkward "hi" or "hello" and simply answer your call by stating your name. This way, you mitigate the need for the recruiter to ask for you.

Additionally, you are able to control the volume during your call as well as what and when the microphone picks up sound. Don't be afraid to use the mute button if you need to get a drink of water or cough and sneeze.
Keep Track of Body Language
Even though the interviewer is not able to see you, make sure you are aware of your bad habits and otherwise distracting body language as you talk on the phone. Do you doodle or pace the floor while you're on the phone? You must determine what bad habits you have and try to resolve them.

A body language trick that can make you sound more enthusiastic over the phone is the use of a smile. Smiling makes you sound like you are more excited and interested in the position, even though an interviewer cannot see that you are smiling they will hear positive energy in your voice.
Phone interviews are incredibly useful tools that employers use when they cannot meet a candidate in person. Although these
interviews
seem like less pressure because you are not meeting someone in person, there are many
mistakes
that can be made. Following tips and techniques could help you learn how to succeed at a phone interview. Don't forget to send them a thank-you letter, you can use our
interview thank you letter creator
, learn
how to write a thank you letter
or check out our
thank you letter example
.