What to Do at a Job Interview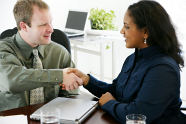 Want to know what to do at a job interview? These tips will highlight common mistakes applicants make regarding their actions, their answers and appearance with solutions to fix them.
Ace Your Job Interview
The interview is your chance to shine, to really let them know that you are the best candidate for the job. It is important to put your best foot forward, to make the best impression you can. This can be done by taking care to make sure you look and perform as favorably as you can. These tips will address various areas that are all looked upon by the interviewer. Avoid poor conduct that is undesirable to the interviewer.
If we do attempt to avoid these blunders we may give ourselves an advantage over the other candidates who may not be aware of their existence. We hope these tips can provide a benefit to you in your job search.
Career Help Library >
How to Prepare for a Job Interview
Review these tips to get some insight as to what to do at a job interview so you are aware of what "not" to do! You can use the tips you feel best serve your needs, you could find some concepts that you never thought of.
Have Good Manners
It is always a good idea to use good manners in the workplace. Be courteous to the people you meet at the prospective company. You never know who you may be talking to, it might be your future boss!
Don't Be Late
This also falls under the umbrella of courtesy, but since it is so important it was put on this list by itself. Don't be late be 15 or 20 minutes early, the interviewer may want to start a little earlier and it demonstrates responsibility.
Don't Talk or Text
Don't answer calls or texts during the interview it is rude. Don't fumble with your phone, set it to silent. Leave it in your pocket or purse and concentrate on the conversation.
Do Your Research
Research the company, the position and the people within the company. You may be asked questions about these topics and you want to be enthusiastic and knowledgeable about them.
Show Interest
Maintain a positive attitude, pay attention to the conversation, show interest and enthusiasm for the company, the position and the people who work there. Our hope is that you are genuinely enthusiastic, getting a new job should be an exciting experience. Answer the questions truthfully with a positive, upbeat spin. Even for uncomfortable questions being positive can help to minimize the negatives. We have some sample questions you can review to familiarize yourself with what you may encounter.
Be Truthful
Not being truthful right from the start seems like a bad way to start a new job. Anything you say or put on your resume may come back to bite you later if the untruths are uncovered. You can be let go for this and it displays your lack of character. It can be difficult to explain away the reason you were let go to your next employer, but it is something you will need to do to move forward. Read our article about how to interview after getting fired for some strategies to handle this situation.
Professional Personal Appearance
Dress appropriately as your industry dictates, your appearance will be taken into consideration by the interviewer as a component of your professionalism. Tattoos are taboo in some companies make an attempt to cover them up. If the tattoos are on your arms wear a long sleeve shirt as one solution.
Confident Body Language
Exhibit proper body language, sit up straight, make eye contact with the interviewer when they are speaking to you and you to them. Don't slouch or cross your arms. Don't tap your foot, bounce your knee or twirl your hair.

You may be nervous, but you don't need to let the employer know that. Don't chew gum, bring food or beverages. Maybe take a restroom break beforehand so you can feel more relaxed and comfortable.
Speak Positively About a Previous Job or Boss
When asked about a previous job, boss or company speak well of them. Even if you are unhappy about them be positive, don't project negativity. Companies don't want negative people who they may feel can cause "dissension in the ranks."
Don't Ask About Salary and Benefits
Questions about salary and benefits are generally discussed after you are offered the position. If the interviewer brings up this subject and you feel it is appropriate you may be able to discuss it, but use caution.
Social Media Profiles
Social media can be a useful job search tool if used correctly. Ensure you have no inappropriate pictures, friends or content. Clean it up your profiles if you do. Employers are now checking applicant's social media pages to judge the character of the applicant. Check our guide on social media and your resume for more information about using this as a business tool.
Bad Credit
In some situations employers are ordering a copy of your credit report, with your permission, as an additional tool to see how you conduct yourself in your personal and financial life. To find out about this newer practice and what you can do about it explore this article: "Can Bad Credit Hurt Your Job Search?"
Being aware of what you are doing at the
interview
from how you act to what you say can make you feel more relaxed and confident. One would expect that could contribute to a better outcome. Be prepared before you go by researching the company as discussed above. Think about the
answers
you give, so they serve to shed the best possible light on your qualifications.
For continued reading visit our
career help
page and don't forget to send a thank-you letter to the interviewer for their time. You can use our
thank-you letter creator
for help with writing by clicking the button here: