How to Handle an Interview After Getting Fired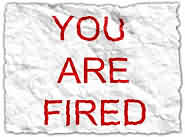 To give yourself a fighting chance, you must know how to handle an interview after getting fired. Presenting yourself well at your interview can go a long way toward achieving your goals.
After Getting Fired How Do I Succeed at an Interview?
You may feel that there is little hope when it comes to your chances of getting hired for a job again. Over the years many people have been
fired
for various reasons some worse than others.
Although it may be more difficult for you to
get hired
it is not impossible. We have compiled a list of tips that you can evaluate and decide if you think they could help in your situation. Of course, there is no cut and dried plan to achieve a
successful interview
. However, with some knowledge and forethought, you can develop a plan of action to reach your goals. With each applicant requiring help in different areas and to varying degrees if nothing else this can be a place to begin your journey back to employment.
Career Help Center
How to Handle an Interview After Getting Fired
Review your employment history, figure out if your experience applies to your new position. From there, you can plot a course of action to fulfill the company's needs while overshadowing your failings with your positive attributes. Draw attention away from what you have done wrong with what you have done right. The tips below can give you suggestions on how to do that.
Talk to the HR Department
Talk to the HR department personnel about your dismissal, attempt to come to a mutually agreeable reason for your expulsion. Agree on one that removes the stigma of the cause of why they let you go. This can lessen the sting of your termination so it will not be so bad during your upcoming interview.
Don't Bad Mouth Your Past Employers
Don't make negative comments about your previous employers, your previous jobs or previous coworkers. Speak in a manner that reflects your appreciation for your previous jobs, present yourself as a team player! Don't act bitter about your dismissal.
Get Positive References
If at all possible try to get references that describe the fine job you did at the company from which you were dismissed. Get them from a friendly supervisor or other coworkers in your department. This would help to dispel the negative connotations that being fired generates.
Don't Use the Word "Fired"
Substitute the word "fired" with something else that is more benign like "let go" or "dismissed."
Explain It and Move On
Try to explain your "fault" while putting the spin on it described below, then move along to explain the ways your skills can benefit the company. Don't rush through the bad parts, but don't dwell on them either.
Don't Lie About It
If you fail to mention your dismissal and the circumstances behind it, you can be terminated at a later date if the company learns of your deception. While you aren't required to mention it on your resume at this point the moral and ethical thing to do would be to tell them about it.

When you do tell them, explain that you learned from the experience and that you are on course not to repeat the misdeed. If you were terminated because of poor performance explain how you have supplemented your education by going back to school or supplemented your experience by interning or volunteering. Possibly at that time, you were in a position that in hindsight was beyond your skill set. Since that time, you have grown personally and professionally and are ready to succeed.
What Will Be Different?
Explain to the interviewer how the experience of being let go has taught you valuable lessons that you apply to your future jobs. What are you now going to do that will benefit the new organization? With each new experience, we become a new person, hopefully for the better. If you have grown from the experience, try to communicate this to the employer.
You may wonder if this unfortunate incident will stain you permanently, and you will not know how to handle an interview after getting fired. These tips can be a guide for you to begin the healing process to rebuild your career and gain productive employment.
As always send a thank-you letter within 24 hours, our
Thank You Letter Creator
can help. To make a good impression, especially in light of the circumstances, you may want to look into other things you can do to improve your chances of success. These additional resources may be of help: