Five Things to Know About Your Interviewer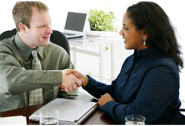 Five things to know about your interviewer: During the interview you have a lot to think about. What people don't realize is that they should know some things about the person interviewing them. Learning about them may take some of the pressure off and lessen the feelings of anticipation.
Know Your Interviewer
It can take some of the guesswork out of the interview process when you understand what the recruiter is thinking about and looking for in an employee. Statistically it is known that employers have already made up their mind about hiring someone within the first five minutes of an interview. With the average interview lasting 30-40 minutes, it is helpful to pick up on the cues that the recruiter is sending during your meeting.
Career Help Library >
What Do You Need Know About Your Interviewer?
After learning about these five things to know about your interviewer, some of your stress may be removed from the process. If nothing else, you can better prepare yourself after reviewing these insights. Be on the lookout for these
10 Illegal Questions
.