Can a Recruiter Get You a Job?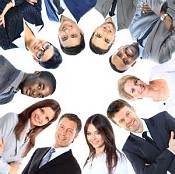 You've applied for many jobs and aren't having any luck. Is there anything more you can do? Use a recruiter to get hired! Don't wait for the jobs to come to you, take action!
Should You Use a Recruiter?
Using a recruiter or a staffing agency may be the next step that you should take for a successful job hunt. Over 80% of the most sought-after jobs are found using some type of recruiting or staffing agency. It is definitely worth the time.
There are a few drawbacks when it comes to using these agencies, but if you are careful and you make your interactions with them productive, then they might find you your dream job!
Career Help Center
Two Types of Recruiters
Before you start a professional relationship with any agency, it is best to know what you are dealing with so that you can act appropriately. There are two types of recruiters, those employed by a specific company that has an opening, or an independent agent, also known as a headhunter, working for a private employment agency.
Internal Recruiter
This person is an employee of the hiring company itself and is paid a salary by that company. They typically work at the company's headquarters, and they have an email address and phone number that are associated with that employer. No matter how kind and comforting they may be, remember that they are not your friend. Remember when you use a recruiter to get a job in this scenario, they work for the hiring company to perform a job. That job is to select the best candidates that will then move on to the next round of interviews. You should always act professionally around these recruiters and avoid any negative interactions since they have such close relations with the company. The last thing you want is to be is labeled as someone difficult to deal with at work.

How you treat and respond to the internal recruiter is a direct reflection of how you would act with everyone you work with, should you be hired. The most important point to remember is to make a good impression. Although the internal recruiter isn't specifically trying to get you hired, they are trying to find the best candidate quickly!
Headhunters
The next type of recruiter also works for the hiring company, but they are not a direct employee. Although headhunters work for a private organization that is funded by employers, they also want to find placement for each job seeker that comes to them. Working with a headhunter is a much different situation. The more candidates they place, the more money they make.

Working with these staffing agencies comes at no cost to job seekers. Take advantage of the fact that you can get help from these places for free. While you want to be forthcoming to these headhunters, please don't get too cozy with them they are paid by the employer. You should treat your interactions with them like job interviews and prepare accordingly.

Make sure if you use a recruiter to get hired you make it very clear to them what type of job you are seeking and what direction you want to go with your career. Headhunters are not career coaches; you should have your goals mapped out before you meet with them.
Can a Recruiter Help You Get Hired?
Stay In Contact
Recruiters are out there trying to fill open positions for companies, positions that you want to be filled by you! After finding a recruiter who specializes in your field, make sure that you maintain close communication with them. Inform them of any interviews that you have, job prospects, or companies with whom you have been trying to get in touch. After the recruiter has an interview with you and reviews your resume, they should then know your place in the job market and the jobs that would be a good fit for you.
Get Feedback
Since you will be in close contact, you can turn to them for advice if you had a job interview and the employer rejected you for the position. After they notify you of the rejection, ask your agent why they think you weren't selected and upon what you can improve. This way, you won't make the same mistakes twice and can improve your chances of getting hired.

Increase your likelihood of getting hired by contacting the recruiter after you've had an interview. After you attended an interview that was set up by your agent, you should call the agent to discuss how it went as soon as possible. By doing this, you can add any additional information that the employer may want to know by relaying it to the recruiter.
Let Them Work for You
Let the headhunters do the talking! Increase your productivity by letting these agents speak for you. They can speak to more companies than you would have had the chance to if you did it alone. These recruiters know many people so let them do what they do best and find a position for you.

A piece of advice when you use a recruiter to get hired is to be patient let them do their work. These agents have many clients and are in contact with numerous individuals. Let some time pass before flooding them with questions or follow-ups.
Don't forget that when you meet with a recruiter or communicate with one online, you need to have an updated resume, cover letter, and reference page. They are going to use this information to help you land a position. If you need help making these documents use the free online tools provided by
Resumizer
.