Use LinkedIn to Get a Job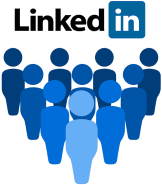 Looking for a job online? We explain how you can use LinkedIn to get a job by connecting with contacts to find opportunities. Chances are that no matter who you talked to during your job hunt someone has suggested that you either get a LinkedIn or use it more effectively. We explain how you can make the best use of your profile by connecting with contacts to get a job.
Will a LinkedIn Profile Help Me?
LinkedIn is great because it is a giant database of professionals who connect and mingle with each other to expand their network of colleagues. To begin, you create a profile and include any professional benchmarks and achievements that you have accrued to not only stand out from the millions of members, but also to become searchable to employers.
It seems like every time you turn around there is another person offering "suggestions" for this professional social media tool (like you don't have enough on your mind). The good suggestions shouldn't be ignored because in a recent survey more than 90% of recruiters said that they use LinkedIn as a method of selecting potential candidates for openings.
Writing a LinkedIn profile is comparable to marketing a new business or product, the only difference is that what you are promoting is yourself. In addition to techniques to make yourself searchable, this article will lay down the framework for how to set up and utilize a LinkedIn profile.
Career Help Library >
Setting Up Your LinkedIn
Create Your Profile
After creating a LinkedIn account, the website will prompt you to complete your profile. To complete this task you should include any relevant and necessary information that you typically would include on your resume. Each data entry process will be taken step-by-step and instructions are provided on the site. If you've ever filled out a form before, completing your profile should be easy.
Create Your Summary
A tricky section of the profile is your summary. Treat the summary section like an abstract of your professional life. Keep the summary short, sweet, and to the point. Include aspects like your experience, skills, awards, and affiliations. Using keywords like the names of organizations or industry acronyms in the summary may get you noticed in search results. Keep optimizing each section as you progress.
Sync Your Contacts
After you've included all the important information that you can, the next step in the LinkedIn process will be to gain connections. The website will prompt you to log into an email account (the one you gave to create the account) so that you can sync any contacts. Those contacts that have LinkedIn profiles will then be displayed to you and you have the option to send an invitation to connect with them. There will be a generic message already filled into the dialogue box when you click the connect button.
Create Connections
The website will also ask if you want to do a classmate or colleague search through LinkedIn's search engine. At the top of the page you can use the search bar and select "people" to search for an individual or select "companies" to search for a company itself. If you want to have a "Direct Connection" you can use LinkedIn's InMail system which, again, sends a generic or customized message to an individual's profile.

After you have completed your profile and made a few connections you are ready to learn the more advanced techniques shown next to use LinkedIn to get a job.
Getting a Job Using Your LinkedIn
Optimize Your Profile
If you're going to spend hours building up your profile, you might as well make it count! To effectively use LinkedIn to get a job your profile needs to be picked up by one of those 90% of recruiters using the site who actually hire people.

You've heard that first impressions are everything right? Well the same thinking applies to the internet; make sure that the first time anyone sees your name online it is generating a positive response. Choose a relevant and professional profile picture that is unique to only you and your field. In addition, make sure that your profile headline stands out and sums you up in a short phrase. Instead of a trash man/woman you are an Environmental Services Professional. Come on think big, people! Keeping the excitement and professionalism at a high-level will do wonders for your profile views.
Follow Prospective Companies
In addition to making yourself look great, there is more that you can do to get that recruiter to call. Follow all of your prospective companies and keep up with their news and postings. Not only are you preparing yourself for a potential interview by easily conducting research, but you are able to communicate with the company. For example, if your dream employer posts an interesting project that they have just completed, respond in a comment.

Compliment the company on their impressive work and mention that you have always hoped to work there (comments free of grammar mistakes of course!) Don't be too persistent with your comments because then it just becomes annoying. A few strategically placed comments on an employer's profile here and there might get you a response.
Find Classmates, Alumni and Friends …
Finally, the last and potentially most effective LinkedIn strategy is all about networking! Find any classmates, family friends, alumni, and either connect with them or send them an InMail message. A good strategy is to find any of your high school or university alums working at companies that you would like to work for and send them a short message.

Just a quick, "Hello I'm ____ and I graduated from ____. I have always wanted to work for ____ do you think you could tell me a bit about what you do?"

Individuals that share a connection such as an alma mater are more compelled to help one another. Don't forget, they've been in your shoes once. Don't be afraid to put yourself out there!
No matter what you do or how you use LinkedIn to get a job the important thing is not to give up and stay optimistic because the right job will come eventually, you have to just give it some time. Good luck using technology to help you get a job!