Stay Relevant During Your Job Search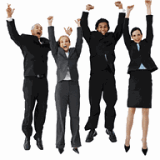 Are you between jobs and struggling in your search? To improve your chances, learn how to stay relevant during your job search, keep your skills sharp during this time. Know how to be relevant in your industry even before you are employed.
Your Job Search Can Improve if You Are Relevant
Are you out of a job and need to keep up in your field? Or maybe you just graduated from college and are having trouble finding a position? Well don't just let life idly pass you by; maintain relevancy and impress colleagues with your ability to remain actively engaged in your interim period of
job hunting
.
Career Help Library >
Be On Top of Your Game
No matter what the circumstances are, you should be utilizing your time during your quest for employment to take an active role in your industry's community for the purpose of preserving your knowledge and relevance in your field. Staying relevant in your
job search
necessitates that you be responsible and take matters into your own hands to help broaden and improve your experience. To get started on building your resume using our
free resume creator
click the Start button below.