Resume Experience Video
Learn how to write this section by watching our Resume Experience Video. Find techniques to optimize your experience section and the kinds of information to include to target the job you are seeking.
Add Your Experience On Your Resume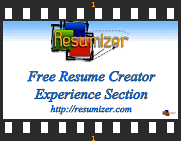 The Experience section of the Resumizer Free Resume Creator is where you will enter your employment history. You will list your experiences gained from each job you have worked. Generally, jobs are listed in chronological order, but it doesn't have to be that way. In a functional resume the jobs that are most relevant to the one that you are applying for, are placed at the top of the list.
There are provisions to list up to five jobs, which is a customary number of jobs to include. Unless you have a long work history entering too many jobs may make you appear to be someone who stays at a company for a short time then leaves. An employer may not want to invest their time and energy into a person who may not stick around. They will again be in the same position of searching for someone to fill your position.
Enter the name of the company, along with the city and state. The street address is not normally used.
Enter your job title or the position you held. Be careful with embellishing too much here. If your references are checked and you misrepresented yourself this can create a problem with your credibility. You would basically have been untruthful from the start, their first impression of you may be that you are someone who doesn't tell the truth. Everyone exaggerates just don't go over board.
Enter the dates in which you worked for each job. Write them in this format: Month Year. An example is shown here: April 2009 - Present. If you currently still work for the company, write the start date then use the word "Present" as the end date.
Employment Gap Help
In the "Descriptions and Duties" box you will write about the duties that you have performed, emphasizing your experiences that are relevant to the prospective position. Describe to the employer how your experience is relevant to the new position, and how you will be an asset to their organization. Write several short sentences consisting of 12 words or fewer using a bulleted list, the Free Resume Creator will format this for you. When a prospective employer reads your resume, they will evaluate your experience, training, and skills, to make the decision if you will be a valuable member of their team.
To sort the jobs listed in your employment history, simply select a position number using the drop down box above each job listing. This will enable you to choose their positions. You can use this method to re-order your past jobs. For instance, you may want to move a job that is more relevant to the position that you are applying for to the top of your list. If you have already written your resume, but decide at a later date that you want to add a new employer, you can easily change the order in which they appear.
Change the position of each job as it appears on the page by changing the position numbers to the order you wish for them to appear. To add a new job enter it into the creator field and set it to the position you want it to be, presumably the first. More information about how to write your employment history can be found this address:
Resume Experience Video
All Videos >
Logo Video >
Education Video >