Resume Employment Gaps - 5 Ways to Fix Them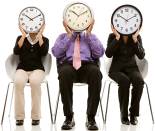 Resume employment gaps can be a major obstacle when applying for a job. Employers prefer a consistent work history within the same industry. This guide provides strategies you can use to fix them.
Resume Employment Gaps
You don't want to be passed over for an interview because you have been out of work for an extended period, or you held a job unrelated to your career.
Working at a job that is not related to your industry could also be considered a gap, even if you had no lapse in employment. An industry gap has the same effect since you were not working in your field. There are strategies you can employ that can help fix or explain these industry gaps too. They also make your skill set more relevant to the job you desire.
How Do I Fix My Resume Employment Gaps?
Career Help Center
Resume Employment Gaps
Why Do We Have Them?
There are many reasons you may have a gap in your resume. Some are understandable, and some can be a road block, examples are:
Having a baby and raising a family
Going back to school to further your education
Joining the military
Accident or illness
Incarceration
Caring for a sick family member
Working at a job unrelated to your industry
5 Ways To Fix and Explain Resume Employment Gaps
Use Years As Dates
Instead of using the month and year format (May 2013) when writing the dates for your employment and education, only use the years. So if you lost your job in January and you got hired for a new position in December, it would seem as though there was no real lapse in employment. The years listed are the same so that it wouldn't instantly draw attention to this period of unemployment.
Include Relevant Volunteer Work
Being unemployed doesn't mean that you must be out of touch. Although it doesn't generate income, you can do volunteer work or get an internship that is related to your line of work. If you recently stopped working, you can use this strategy to keep yourself relevant.

Are you in a situation where you have not been working for a long time, and you didn't volunteer or intern? Then think about the things you have done and the experience you have gained during this period of unemployment that you could apply to a new position. The skills and experience you gained can be used to fill your resume employment gaps.

If you like, you can create another section listing these new skills and experience and then format the dates as you did with your employment and education histories. This technique can also be used to cover an industry gap, where you worked at a job that is outside of your industry.
Use a Functional Format
A functional format focuses on the relevance of your education and experience, not on the dates in which they occurred. You can obtain detailed information about functional and chronological formats by visiting the link provided. You may combine both formats by using a functional format in some sections and a chronological format in others. The Sorting Order (Formatting) section of our Free Resume Creator makes it easier to optimize your facts. You may want to view our Sorting Order Video.
Don't Explain On Your Resume
Don't explain the reason for the gap on your resume. Instead, you may include a sentence describing how you kept yourself up to date during your period of unemployment, following with a reason for the gap. If it was a medical reason, don't disclose what your ailment was. In the U.S., employers are not allowed to ask you about your medical history.

Be prepared to be asked about your employment gap at the interview, and plan ahead of time how you will answer. You can say something similar to what you wrote in your cover letter. It is better to think ahead, rather than to be stumbling to come up with an answer quickly.
Use Keywords
Use keywords to optimize your resume. To find keywords, use words listed in the job description posted by the employer. Include these keywords in your volunteer and internship history. We have written an article about keyword optimization that describes many more strategies you can use.
More information can be found on these pages: