Resume Logo Video
See how you can benefit from the inclusion of a logo on your resume from our Resume Logo Video. This video explains how to use our system to add one to your cover letter and reference page too. Not everyone needs to include one, but for people whose careers would benefit from it, you can easily add one using our system.
Should I Use a Logo On My Resume?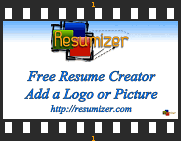 The Resumizer Free Resume Creator has many styles that incorporate a logo in their design, specifically styles 1 through 25. *Updated: Except for ASCII, we have updated all the styles, to have the ability to use a logo. This update enables us to remove styles 26-30. They were the same as the other existing styles, with the exception that they had the option to add a logo which now makes them redundant. If you use styles 26-30, the creator will automatically reassign your selection to the appropriate updated style. You don't have to use a logo if you don't want one even though the styles can display one. If you don't enter a picture, we will show the rest of the template minus the picture.
If you choose not to use one, you can return to the logo page at any time to add one. By selecting "No Logo" on the "Logo" page, the logo will then be ignored. Otherwise, you may use one of our monograms, a picture of yourself, or an image of something else relevant to the position for which you are applying.
For example, you may want to include an example of your work if you are an artist or an architect. Our styles utilize photos in their designs, and you are sure to like many of them. We provide this feature for those who can benefit from its inclusion. As time progresses, we are becoming a more visual society that thinks about all the images and videos people see online.
It may be to your benefit to design a special image specifically created to showcase your talents if you are considering using this option. Think about how you can visually communicate your skills and abilities. Especially if you are in a field where it is important to have strong design, art, and drawing skills.
Visual communication is why we included this feature; many guests who want the option to be able to add something extra to their page can now do so. Use something as classy as one of our monograms or one of your works. When the employer is thumbing through the pile of pages, your image may catch their eye. For occasions where a machine does the scanning, it may not provide much benefit, but during the interview, if they have a copy of the page it may.
Are you neck and neck with another applicant? Would it only take a little more creativity on your part to tip the scale in your favor? Maybe adding this could tip that scale, you never know. When the competition is fierce, you must use every advantage you can get. A guide about using photos on your documents was created to answer your questions related to this topic. The link is here:
Photo Resume
.
Note: HTML and printing can include our logo or your picture; PDFs can only use one of our logos. Word and Text formats incorporate no images. If you want to use your own image you will need to export to HTML or print it. Only our logos are saved in the database.
Resume Logo Video
All Videos
Contact Info Video
Experience Video