Resume Contact Info Video
You can learn which contact info would be the most beneficial to write on your resume from our Resume Contact Info Video. Use contact info that maintains your professional profile. We also tell you how to write your objective statement and job skills.
Include This Resume Contact Info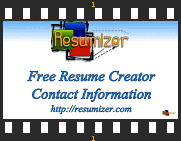 In this video, we will talk about the contact information you should include on your resume. To start, you will want to use your full name. You should not include nicknames or slang terms on your resume. You want to be professional and formal.
Next, you will need to enter your mailing address so the employer can correspond through postal mail, should they choose to do so. Enter a contact telephone number. A landline number, a cellphone number, or both.
You will want to include an email address. You don't want to use an unprofessional email address. If you use an email address that may be cute or funny, your prospective employer may not see it that way. For this reason, we suggest getting a professional sounding email address that contains your name. You can get one from Gmail, or your internet provider will usually offer to give you an email account through them. We suggest using an email that contains your name. If your name is Bob Smith, you could have an email such as bobsmith@some-email.com, bsmith@some-email.com or b.smith@some-email.com.
Do you have a website? Enter its web address if you feel it is important enough to include on your resume. Make sure that if you do enter a website that it will help you and not take away from the professionalism you are trying to convey. If you are an artist, you may want to link to a website with examples of your work. If you intend to post your resume in our directory, you may enter the web address of your online resume page. Otherwise, please leave it blank.
Social Media Profiles
If you have a social media page with a professional profile, you can also link to that. If you have other important details, you wish to make the employer aware of, but don't quite have the space for them this can be a place to make them known. Employers may search for you on the web and social media sites, so make sure that what they may find is tasteful and appropriate. You can have the best set of business skills, but if you are a goof off in your personal life and the employer knows about it, that may impede your hiring. If you do link to your profile be sure it is a professional one and not a personal one. You want to maintain a professional environment in all aspects of your job search.
Objective Statement
Now we come to the objective statement. The objective statement may have become an obsolete section. You may or may not need to include one. It depends upon what is customary in your line of work. If you do choose to use an objective statement, make sure that it is well written. Otherwise, it may detract from your resume. We have included a link to a tutorial about how to write an objective statement. It also shows
examples of objective statements
. You want to say what your goals are while also saying how those goals will benefit the employer. If your goals are in line with theirs, then all the better.
Skills Examples
Update: We have relocated the Skills section to the Additions page, but the information here about writing your skills still applies.
Lastly, you will write about your job skills. The Skills section is an area where you want to take the time to think about what words would best highlight your abilities. Write your skills using bullet points and short sentences that consist of 12 words or fewer. Make what you write count, as you don't want to add excessive length to your resume. The Skills section is an important area on your resume where you must sell your abilities to the employer. Shown above is a link to Resumizer's helpful guide on how to write your skills. Our creator will automatically insert the bullet points for you when you are adding your skills within the Skills box.
Resume Contact Info Video
All Videos
Sort Order Video
Logo Video