Resume Skills Examples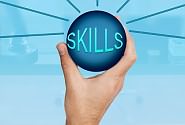 Resume skills examples with a simple guide to help you write your resume skills list. We explain how to optimize this section with examples that you can use and modify for your specific field. The resume skills section is usually a bulleted list of the most important abilities that you have acquired while performing your previous jobs. It gives the interviewer a quick summary of what your capabilities are.
A List of Resume Skills Examples
When you write this section, be sure to focus on your abilities that are most relevant to the job you want to obtain. This section is a part of your resume that you want to tailor to each job, write in your resume skills that are necessary to perform this new job. The number of list items you use shouldn't be too many, but enough to make your point known.
Write a list containing all the job skills and abilities that you have acquired in the normal course of your work. This way, when you need to update your resume to apply for a new job prospect, you will have a list already written and ready to go. This method will cut down on time needed to write your resume and make updates. You won't feel pressured to come up with the information quickly, and you can add more useful items to the list as you think of them.
Draw your most relevant resume skills examples for that specific job from your list. Include keywords specific to the position, so if they scan your resume into their database, they can search for keywords.
Try to use
action verbs
in your examples to give more importance and effectiveness to your abilities. Don't claim to be more proficient at a task or have greater abilities than you do. You may get this job and be expected to perform at the level you claim you can.
Writing a resume doesn't have to be a daunting task, our
Free Resume Creator
combined with our
resume writing help
simplifies it all
free of charge
.
Career Help Center
Resume Skills Examples
strong communication skills …
excellent ability to adapt to difficult situations …
detail oriented …
capable problem solver …
speak foreign languages …
proficient at Word …
good organizational skills …
working knowledge of Java …
time and project management …
leadership skills …