Job Application Help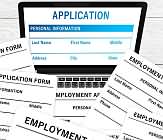 Whether it's online or in-person, our Job Application Help guide will explain how to fill out a job application. Get the help you need. Get prepared here at Resumizer.
Get Some Job Application Help
Questions on a job application will be similar to the information you already have listed on your resume. Be sure to fill out the application completely. Don't skip questions because you feel that you already have that information on your resume. Answer all required questions and verify that the information you enter on the form is the same as what you wrote on your resume. You don't need to introduce any discrepancies.
Career Help Center
It's hard enough to search for and find jobs. Next comes the process of applying for that job. This article will let you see the kinds of information employers are requesting on these forms. Companies want your contact information, your education history, and your employment history. They dig deep to ask questions about how much money you made at your past jobs and why you left them. They want a list of personal and professional references who will vouch for your character. They want to know if you have ever committed a felony too. They ask questions that can be uncomfortable to answer. However, if you want them to consider hiring you, you will need to answer them.
We designed these questions to be similar to what you will encounter when you apply for a job online. Most companies are now using online application forms that should ask you questions very similar to these. All employers ask for the same basic information. The most important thing to do is follow the instructions as they are laid out on the form itself. You want the employer to see that you have the ability to follow directions as they wrote them. HR managers notice the small details. They are another signal they can use to separate the top applicants from all the rest.
You will most likely encounter questions such as these:
What is your personal information such as, your name, street address, telephone number, email address, and social security number?
Which position you are applying for?
Are you older than 16, 18 or 21, depending upon the required minimum age?
Do you have a drivers license?
Are you legally eligible for employment?
Do you want part-time or full-time work?
Which shift do you want to work?
Have you been convicted of a felony?
Do you require any special accommodations to perform this job?
Employment History
Where have you worked? Include each company's name and address.
What were the start dates and end dates?
What positions did you hold?
What duties did you perform?
Why did you leave?
What were your starting and ending salaries?
What are the names of your previous supervisors and their telephone numbers?
Educational History
What schools did you attend?
What years were you there?
What was your field of study?
Did you graduate? If so, did you get a degree or certificate?
Military, Skills, and Qualifications
Are you a veteran? What was your duty or specialized training?
What equipment or software are you able to use?
Do you have any professional licenses or certifications?
Do you have any additional skills or languages you can speak?
How many words per minute you can type?
Other:
List two additional references who are not relatives or former employers.
They may ask you to supply contact info in case of a medical emergency.
Then you will read a legal disclaimer describing how if you have been untruthful or if your references don't check out you can be fired. It doesn't pay to lie or exaggerate. If something should surface two years later they can still fire you.
Then you sign it.

These questions are what you will typically find on a paper or online job application. Most likely, you will also be asked to attach your resume to the online job application. Some companies may ask you to
answer questions
which relate to difficult situations you have encountered in the past and how you have handled them. For example, "What was your worst business deal?" and other uncomfortable questions like that.
They may have you write a 500-word essay for a question they have posted. Of course, every company has its hiring practices, and this is a general job application help. When appearing in-person be sure to be polite to everyone you encounter on site. You never know who may be observing you. Always
dress appropriately
and be well-groomed. First impressions are lasting impressions.
Common mistakes applicants make when filling out job applications.
Job Application Mistakes to Avoid
Read the directions carefully, so you answer the questions properly.
Don't exaggerate your skills and education. If they find out they can fire you because of it.
Proof read everything for proper spelling and grammar.
Nothing screams unprofessional like a childish sounding email address.
Be sure to send it to the correct person.
Fill in all the applicable fields. If a question doesn't apply to you type N/A or write a dash.
When answering questions, try to use keywords relevant to the position.
Make sure the information you enter doesn't conflict with what's on your resume. Be sure the dates, skills, jobs, and more, match.
Don't use slang terms.
Read the job description to be sure you are qualified for the position.

One last, but essential item to mention is regarding your
social media
profiles, such as Facebook or Twitter. Be sure what you have posted is not going to be a liability. We all have heard stories where professionals have lost their
jobs
due to the postings on their social media pages.
Ask yourself, would my postings hurt me in any way if my employer saw it? If so, you may want to delete the offensive posts or make them private. Many employers are now asking applicants to supply their login information to their social media pages as part of the hiring process.
Many employers feel they can get a true sense of whom an applicant is by looking at their
social media
sites. Keep this suggestion in mind before you post the pictures of yourself at that crazy party. Remember, if your postings are public they are there for all to see. If they are not public, they may still ask to see them.
Resumizer is a great resource you can utilize to get job application help and to learn how to fill out a job application along with other
career help
such as
10 Tips to Master a Lunch Interview
.