Job Hunting Tips for Graduates, Newbies, and Freshers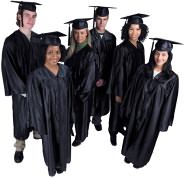 If you are fresh out of school, your search process can be less intimidating. Use our job hunting tips for graduates so you will know what to look out for and how to act.
Graduates Can Benefit From Job Hunting Tips
We hope that your well-earned degree and your acquired skills will help you during this uncertain process. However, if they are not enough, there are other actions that you may try.
Graduates these days are not promised a job before their schooling, which is nerve-racking since putting yourself through school is a substantial capital investment. No one wants to spend years of their life learning a trade or field and perfecting their work to join the unemployment line.
Young
job seekers
must learn to take the initiative, to work smarter as well as harder after they graduate. You need to make the right moves in your
job search
. Search for employment in all the right places, and you might find success. Sometimes it takes a little luck or the right connection, but by taking heed of these pointers, you may have a better chance of entering the workforce after you graduate.
Career Help Center
Helpful Job Search Tips for Graduates, Newbies, and Freshers
As mentioned previously, hunting for employment after you graduate from a high-level institution can be a tedious and disheartening process. It's a tragedy when individuals go through years of schooling only to enter a world where they are unable to find employment.
To counteract some of these nightmarish situations, a list of suggestions to help graduates, newbies, and
freshers
with their
job search
is provided below. These tips are merely suggestions, which is to say that they may not work for everyone, but they are worth exploring.
Entering the workforce after many years of school is challenging and can be scary. But with some help, you may be better equipped to go through the job hunting process with confidence and more importantly, success. Following these job hunting tips for graduates could save you time during your search and let you skip the unemployment line. To begin this adventure you will need a resume, click the button to get started: