How to Target Your Resume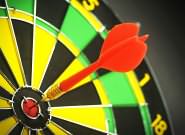 Targeting a resume, or having your portfolio custom tailored for a job can make a difference between whether or not a company takes an interest in you. It is simple to optimize your resume to gain attention by following these tips.
Target Your Resume to the Job
Resume targeting is not only effective when a recruiter glances over your resume, it may also help it be selected amongst hundreds of others in an online computer database. Applying for a job can be competitive. Why wouldn't you do everything you could to improve your chances of getting contacted?
Career Help Library >
How to Target Your Resume
Have a Solid Foundation
Each job that you apply for should have a specific resume, of course, but the bare bones of every copy could be the same. Start by making a document of essential facts about your professional life. Don't embellish any descriptions, just simply state the experiences and qualifications that you have.

Use this "plain" document as a foundation to lay out a targeted resume, which is presented in an effective and attention-grabbing way. Your portfolio should be clean, clear, and professional. Think outside the box and customize the resume a bit. Our system allows you to customize the templates and styles.
Specialize Each Section
Begin by addressing each section by presenting your skills and qualifications with creative yet concise titles. For example, if you are applying for a teaching position instead of labeling your experience section "Experience" use the heading "Teaching Experience." You have now included the word teaching one extra time.

Use keyword targeting when writing these sections. You should include the proper density of target words to not only grab the attention of the reader, but show up if an employer utilizes a search technology to select top candidates for the position.
Target the Position You Applied For
If you are applying for a management position use words that relate to management. Include your leadership skills and your ability to supervise people. If you are applying for a job and your portfolio makes you appear under qualified or overqualified, rework the wording to a more appropriate rhetoric.
Research What Employers Are Looking For
Create a summary of the job requirements that the company has advertised. Take note of the level of education and/or certification they are looking for to see if your background qualifies.

To gain some attention from companies, don't just research the position you are applying for. Discover the market by evaluating the competition's requirements to be more knowledgeable about this job. Even if the interview with this company doesn't work out, you can make minor adjustments to your portfolio and apply somewhere else. This will save you a lot of time.
Customize to Impress
Essentially, the definition of how to target your resume is customization. Whether you are including information about your professional experiences or including keywords that you found laced in a company's help wanted ad, you are targeting for a more effective response.

Include any and all experience that you may have in the field. Even if it is volunteer work or an internship, if it is related to what the company is looking for it won't hurt you to include it. Change some of the job titles that you have had and tweak their descriptions to more appropriately fit with the requirements that your prospective company is interested in. Don't use false information, but you can bias it toward the position.
Take Advantage of Social Media
Using social media websites like LinkedIn can help you search for professionals that currently hold the position that you are looking to obtain. Seek out their accomplishments and qualifications that they have accumulated and compare them to yours.

Additionally you can be current with the events of a particular company by constantly checking their website, Facebook, and Twitter feeds. Not only will you have a better understanding about the company's mission statement and how they like their employees to be, but knowing about current events in your field can't hurt. For example, during an interview you may appear relevant and interested by stating "I saw the success of your last event on your Facebook page, congratulations that looks like a great thing to be involved in."

Having knowledge of the company's affairs will allow you to more effectively use the keywords they are searching for.
Learning how to target your resume takes practice, but once you achieve a level of proficiency you can make a grand difference in the
job application
process. Consider these steps to create a more targeted resume, you may see improved results when applying for a
job
. Click the button to get started: