Everything You Need to Know About Online Job Search 2019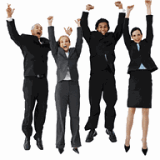 These approaches to locating work in 2019 may help you get hired. Learning everything you need to know about online job search uncovers other avenues to finding gainful employment. Searching online can be tiring and confusing. There are so many options that you are able to choose from, and varying amounts of services provided. With this debunking guide you can swiftly navigate the challenges of the online job search.
Online Job Search: New Approaches for 2019
It is quite obvious that the infusion of the internet into everyday life has dramatically changed the way that individuals look for employment. Not only is the use of these services quicker and more convenient, but it allows the workforce to be flooded with the best talents due to the increased amount of selection on the market.
Trying something so versatile and invasive may seem intimidating, after all you are basically supplying all of your credentials and professional information to anyone who has a computer, but you will find that in the long run, it may have connected you with a position that you never have even dreamed existed.
Even if you are not new to the world of online job searching, there are many incredibly common mistakes that a made by job seekers that often prevents them from getting the position. These mistakes are made typically because there is an element of carelessness or ignorance to the sheer publicity of the internet.
Career Help Library >
What Do You Need to Know About Online Job Search?
Even those who are familiar with the many websites that serve as job posting markets may not be aware that they are making certain terrible mistakes that may be inhibiting their chances of getting an
interview
.
Create and Perfect a Portfolio
You should have completed and reviewed copies of your resume, cover letter, letters of recommendation, and any other related documents readily available for display. A great way to prepare for web applications is to format your resume and any other documents so that they are in a plain text format. That way, if a website requests that you copy and paste a copy of your resume into a text box, you have an unformatted "safe" version to include in your application process.

If you want to take your presence to a whole new level, make your information available to all recruiters who may be interested in your skills by creating a website or blog specifically about your professional life and accomplishments. That way if an interviewer would like to do more research on you as a candidate, all of your information is readily accessible.
Clean Up Your Online Presence
The importance of this next tip cannot be stressed enough; it is vital to the success of your job acquisition that you maintain a squeaky clean presence. All of your social media must be raided and purged of potentially negative content. If you would prefer not to go through each social media profile it is best to get rid of them entirely.

While getting rid of your personal social media is encouraged (especially depending on the position you are applying for) integrating and updating professional social media profiles is strongly suggested. Websites like LinkedIn, and other profiles should be accurate and free from errors.
Widen Your Options
Do not limit yourself to the number of job posting websites that you use. Post your information to as many sites as you can find. Using the large companies that connect you to multiple postings can be quick and efficient, but don't forget that there are other sources to find employment.

Smaller websites may carry different postings that are not listed through a major corporation. Also, don't be afraid to go directly to the source. Visit websites of the companies that you are interested in and view their employment section. Sometimes you may catch a listing posted on there before it even reaches a posting website.

Take advantage of various services provided from websites as well. Some postings have the option for you to plug-in a key word or phrase that you are looking for and sign up for email and text message alerts anytime a new job is posted in that field.
Make Yourself More Desirable
Employing methods of resume targeting and personal marketing are excellent skills to acquire since these tools may be used to present yourself to a company as a more desirable candidate.

One of the tips mentioned previously was about your web presence. See what you can find on Google about yourself, you name, previous employment, etc. When you investigate for yourself only positive things, namely, your achievements should appear. If you are able to manipulate the search results so that the engine only displays your accomplishments, this will once again make you appear much more valuable.
Even though using the internet to conduct your
job search
isn't a new concept, it's shocking how many people use the method incorrectly, or not to its full potential. With these tips about everything you need to know about online job search you may have more success with this common process.