How to Get an Internship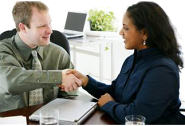 The semester is coming to a close, and you have nothing to do for the break. Find out how to get an internship. Are you are out of work and can't find a job? Why not try an internship?
Get an Internship to Learn New Skills
Gain some work experience in the real world, interact with professionals, and learn a lot. All this sounds great, but how do you actually get an internship? Well, you can go through the tedious task of applying to multiple listings aimlessly and hope that you can spontaneously acquire a great opportunity. Alternatively, you can follow a few easy steps and make this idea a reality.
If you want it bad enough, there shouldn't be any reason why you can't land the internship you want.
How to Get an Internship Tutorial
Career Help Center
Interested in Getting an Internship?
Standard Procedure
As a college student you have taken the leadership and resume workshops, and have learned probably over 100 times how to act in an interview, what to wear, how many pages your resume should be, and so much more. Use all this accumulated information to your advantage. You already know what these companies requiring interns are looking for, so use that to your benefit and knock out your interview. You can read our job interview tips article if you need a refresher on proper interview etiquette.
Where to Look
The most obvious place to start looking for an internship is through your school. Check with your adviser/counselor for opportunities, they're always out there. Sign up for your major's Listserv (mailing list), and your inbox will be flooded daily with potential positions.

If your school doesn't have what you're looking for or you don't go to school network with your local organizations and apply through them directly. You will be surprised at how many volunteer opportunities can turn into internships that can earn you credits. Most schools have an independent study type of program, after completing a certain number of hours and writing a paper or two, you can earn some college credits. The possibilities are endless, and in this economy, free or cheap labor is in demand, so you shouldn't have trouble finding a suitable position.
Stand Out
You are never going to get a job, let alone an internship if you're shy. Break out of your shell and learn to speak up and be confident in social situations. When a company asks your opinion of their product, you should know about it. You should be able to give them feedback on how and why people should use it. Share your opinions, and you might be surprised at how far that takes you.

Another thing that you can do to shine during the interview process is to have a perfect resume. Having some credentials or extracurricular activities on your resume will make you special and more desirable. Whether it is grades or volunteer work, make sure that what you are good at is displayed prominently and never neglect to mention your strengths.
Grades Aren't Everything
As mentioned before, to obtain the internship of your dreams, you have to stand out. Most students feel that if they have a 4.0 GPA and nothing else that they will be able to get any position that they choose. While grades like this are great, sometimes they are not everything.

Here is a hypothetical scenario. Two people are competing for a spot. One person has perfect grades and no experience whatsoever. The second person has average grades, but much relevant experience and a bright personality. They will probably choose the second person over the first. It is all about personality and passion for a topic that grabs attention.

While enthusiasm is key, don't forget about side projects and jobs. Having a multitude of activities and responsibilities under your belt makes you seem impressive and capable.

Learning how to get an internship is not that difficult, and with the right drive and experience, you should have no problem getting the job. Get out there and start searching, and best of luck! Visit these pages to get more career help and to get started writing your free resume.