Resume Template Tutorial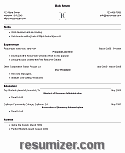 This Resume Template Tutorial will help guide you in choosing the most effective resume template to use for your situation taking into account your abilities, education, job history and career needs.
How to Use a Resume Template
When using our resume template tutorial, you will want to consider which format would best present your information to an employer. Your mission is to convey your abilities, education, and job history to an employer as quickly as possible. They will probably spend less than 30 seconds deciding if they should throw your
resume
in the trash.
A simple way to use this resume template tutorial would be to use our
Free Resume Creator
. It has no fees at all and starts with the default style #1. During the process, you will go to the page where you will select the formatting to arrange your info in the most optimized manner. Again, use #1 (the default), then continue through all the steps until you reach the end. When you are finished filling in the blanks in the creator program, you can preview your information to see how it looks finished and formatted.
If you revisit the Style page, you will be able to try each of the 25 styles, from there you can choose your favorite. Change the colors too for more variety, and if you used a picture, try different ones to customize it even more.
When you see it in front of you, start to think about how your information relates to the job for which you will apply. If your abilities, education, and job history are strong, it will be easier to accomplish this task. If your information is weak relative to the job in question, it is even more important to properly optimize your
resume sections
. You will want to present your info in the most favorable light. This reason is why the order of the sections and our guide becomes important. Choose a format that puts your most important info at the top.
Do you have a long education or job history? Does your resume run longer than the customary one or two pages? Then it may be beneficial to choose a compact style like #5, #7, #21 or #23.
If your history is short and you want to make it appear that there is more substance use a style with more space like #3, #4, #11, #12, #14, #15, #19 or #24. Use a photo if you want to include one.
We suggest that you try all the styles and tips in this resume template tutorial to present your capabilities most favorably. Aside from style selection, you can also choose a more compact or less compact font and a larger or smaller font size. Wise font choices will also help make everything fit on fewer pages. More tutorials can be found in our
help and tips
section.
Career Help Center
Pick a Resume Template Tutorial for 2022
You will want to consider these points:
How long will your resume be?
It is customary to use one or two pages.
Will you write relevant info or filler?
Useless words only add to the length.
Will the font and font size be easy to read?
Try different fonts and sizes.
Will the formatting put your important info at the top?
Experiment with various formats to choose the best one.
Will you reword your sentences to make them shorter?
If your resume is long it may help to shorten them.
Will you use the correct spelling and proper grammar?
Our creator program provides basic spelling and grammar checking.
Will the template you chose let you read rapidly?
If it can't be read quickly it may end up in the trash.
Will you try different combinations of formats and templates?
Custom combinations can yield the best results.
Will you pick easy to read colors?
Use contrasting, non-distracting colors.
We created this resume template tutorial guide with the hope that it will help you with customizing your templates. We have different styles for different applications, and they should be suitable for your field too. You can "change it up" by choosing different formats depending upon your desire to use a
chronological, functional or combination format
. Determine what your needs are, then you can pick a style that works best for you. You can switch them in and out to easily see which will look best when loaded with your information.