Now There's Help Choosing the Best Resume Format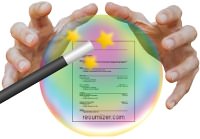 A Resume Formatting Wizard is a great tool to use when you are not sure how to choose the best resume format. Now you can get help by answering these 10 simple questions.
About the Resumizer® Formatting Wizard
Using the most effective format is as important as writing the most effective words. How you display your information on the page dictates how well the interviewer will assimilate your information. Yes, the interviewer will quickly scan down the page, although now that is mostly done by a computer search algorithm, ensuring it sees your information is still the ultimate goal. You can manipulate to your benefit how you present that information and how they read it. You don't have to accept a one-size-fits-all format that does nothing to accentuate your skills, experience, and education. You can choose the best one here.
Career Help Center
How it Works …
This tool, also built-in to our Free Resume Creator, will assist you in choosing the proper formatting for your resume based on your education, experience, and skills. The tool also takes any negative marks from your past into consideration. We also made this feature a separate tool apart from our creator because it was so well received. Job seekers who choose not to use our writing services may still take advantage of this great tool. Answer these questions and submit your answers. There are six different format layouts below (1-6); the answers correlate to one or more layouts. A checkmark will be placed above a layout when a corresponding answer applies to it. The format layout with the most checkmarks would be the one to select, then test it to see if it will work correctly for you. Ultimately you are the best person to choose the most effective format for your resume.
Resume Formatting Wizard
Not sure which format you should use? Answer these 10 simple questions, check all the boxes that apply, then click the "Submit Answers" button. Each answer "votes" for an associated format. The layout that gets the most checkmarks should be most relevant to your answers. Please begin by clicking the questions that apply to your situation.
TIP: The layouts below show the order in which each section would be displayed on your resume. Even if you are writing your resume yourself you can still use this wizard. Arrange your resume sections in the same order as the format chosen by the wizard.
Format 1
Contact Info
Opening
Skills
Experience
Education
Additions 1
Additions 2
Additions 3
Format 2
Contact Info
Opening
Skills
Education
Experience
Additions 1
Additions 2
Additions 3
Format 3
Contact Info
Opening
Experience
Education
Skills
Additions 1
Additions 2
Additions 3
Format 4
Contact Info
Opening
Education
Experience
Skills
Additions 1
Additions 2
Additions 3
Format 5
Contact Info
Opening
Additions 1
Skills
Experience
Education
Additions 2
Additions 3
Format 6
Contact Info
Opening
Additions 1
Skills
Education
Experience
Additions 2
Additions 3
You're Not Done Yet!
To continue the formatting process, you could put the most recent or most relevant school first and the most recent or most relevant job first. If you are getting a new job in the same line of work, putting your schools and jobs in chronological order may work well. The other option is a functional order where you use relevancy as your determining factor. This configuration can be used to cover up the problem of your education and experience not be aligned well with the new job. This is from where the terms
chronological resume and functional resume
come. You can also combine aspects of each format into a combination resume to fine-tune your information. It comes down to what will work best for your situation. It would be preferable to make the selection process cut-and-dried, but with all the different variables to consider, it's not that simple. If you want to try the version built-in to the creator program itself, click the button below.