Resume Tips Video
Another method we are providing to help you write your resume, cover letter and reference page is our Resume Tips Video. The tips provided in this video are a visual guide that show you what to do.
Tips to Improve the Quality of Your Resume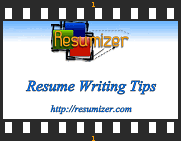 Resumizer has a large collection of helpful resume writing guides and tutorials, here are some basic tips to get you started. Think of your resume as a sales brochure written about you. You are selling your time, your skills, and your abilities to an employer in exchange for your salary. Your resume is the advertising vehicle, and your skills are the product. If you think about it in this way, it may help you choose words that will make you stand out.
Ideally, you will want to limit your resume to one page, if needed you may use two pages. Only essential information needs to be included here. The employer will only spend 20-30 seconds (or less) looking at your resume so make what you write count.
Be careful not to include information that should be introduced at a later date. This includes your salary history and references.
Salary
is often discussed after the job has been offered to you. Adding your references to your resume now increases its length and is ill-timed. You should have a separate reference page available to bring with you to your interview. If you are then asked for it you will be well-prepared. The new school way is to include your references when you are filling out the online job application.
If you are printing a hard copy of your resume, cover letter, or reference page, use quality resume paper that is 8.5″ x 11″ in size. Use paper that is white, ivory, or light gray in color. One-inch margins are used on all sides. Again, the new school way is to fill out all these details online. This is becoming the way applicants are completing job applications, but still bring paper copies as backups. More and more of our society is going paperless, but until that happens completely we still need paper copies at the interview.
Also, always use the spell check feature available in each section. It is extremely important that your
spelling and grammar
are correct. Take extra care to properly use and spell industry terminology and buzzwords. Using these incorrectly will uncover your lack of education and professionalism.
Take some time to do research on the company, their management team and their products. Know about the company you have a desire to work for so you can speak to the interviewer as an educated person. These are basic suggestions. We have a career help section with information on how to write a resume, cover letter and reference page, which go into much further detail. The web addresses to the pages are shown here:
Resume Tips Video
All Videos >
Creator Video >
Style Video >