Resume Fonts Video
Resume Fonts Video helps you choose the best fonts and colors for your situation. We will tell you about what you need to consider when selecting the font and colors for your resume. Making these choices can affect how well it is received by the employer.
Choose Your Resume Fonts and Colors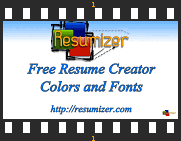 The Colors and Fonts section of the Resumizer Free Resume Creator is where you will make your color and font choices. To further personalize your resume, you can change the font, and the colors of the text and accents.
You don't want to use a font size that is too small, not everyone has good vision. If it can't be easily read, it won't be read. With so many people available for hire, anything you can do to make your resume stand out above the rest will be beneficial.
When choosing the font, keep in mind that most people use a "standard" font like Arial or Times New Roman. If your resume gets electronically scanned, it will be easier for the software that reads it, to understand the characters on the page. Unless it is appropriate, using something non-standard may make it look odd or undesirable.
If it is light on content, you can use a larger font size to fill it in a little to look more substantial. The opposite is true if you have too much text, but again, don't choose a font that is too small someone still has to read it. It would be better to trim your text than try to cram it all on there, then make the text so small that no one can see it. Not everyone has good vision nor the patience to try deciphering the tiny text.
Choosing a color is another decision to be made. You may be tempted to pick a color that really stands out. If this is a normal practice in your field, then by all means do so, but in most cases it isn't. To be safe you may want to just use a "standard" color. It is customary to use contrasting text colors like black or dark blue. You can also choose the colors of the design accents.
The accent and text colors can be selected independently, but don't choose distracting colors for either one. We do offer "odd" colors too because we attempt to anticipate what our guests needs might be. For some they may be the correct choices for others they may not. If you want to be on the safe side, again, use either the same color for both the text and accents or choose different complimentary colors. Note that not all styles incorporate accent elements in their design.
Think about what selections would best support what you have written. We want to improve our chances of getting hired not hinder them. More in-depth information regarding font and color selection can be found at the address shown here:
Resume Fonts Video
All Videos >
Additions Video >
Preview Video >