Resume Preview Video
Discover all the options and services that are available to you in our Resume Preview Video they are all free. Through our videos you can discover how to get the most out of our service. Resumizer will not ask you for payment to create your resume, cover letter, reference page and more.
Preview Your Resume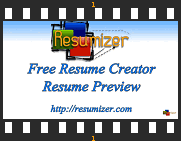 The Preview section of the Resumizer Free Resume Creator is where you will view your resume as it progresses. As you enter your information you can preview your resume. You can look over your resume and decide if any changes need to be made. If there is something you would like to edit, simply go to the section you would like to change, make your changes, and preview the results.
You may want to experiment with trying different styles to see how your resume looks with different formatting. Changing the text or accent colors can make it stand out as well.
When you are finished creating your resume, you have many options as to what you can do with it.
You can print it out, post it online or send it to an employer.
You can download it any of four formats; text, HTML, PDF and Word.
You can download the edit file which contains all of your information and personal settings.
It is recommended that you download it as a back-up of your Resumizer resume. It is the method guests will use to make edits if they choose not to take advantage of free membership. The "edit-file" will also enable you to re-enter your information and personal choices back into the system to make future edits without having to log in.
You can become a member, at no cost to you, and save your resume in our database by pressing the "Save to Account" button. By joining, you can edit it by simply logging in using your mobile device or a desktop computer. You will also be able to post your resume online to our directory, share it through social media sites or you can send it to an employer.
As a member you will not have to post it online if you don't want to. There are settings to make it Private or Public. You do not have to feel obligated to post it online, we don't want you to feel obligated to do anything except create a great, professional looking resume.
From the Preview page you can continue to create other related documents. Your information and personalization choices can be imported into our other programs with the press of a button. You will be able to create your; cover letter, reference page, networking business cards, post interview thank-you letter,
reference request letter
and a resignation letter. Our letter creators have built-in letters to get you started that you can modify to suit your own situation.
All these services are also free and none of them require membership to use. More information about membership and writing help can be found on these pages:
Resume Preview Video
All Videos >
Fonts & Colors Video >
Cover Letter Writing Video >