Resume Additions Video
See what kinds of extras you can add to your resume in this Resume Additions Video to help improve its ability to sell your skills and capabilities to an employer. Adding more related content can promote your value to an employer and their organization.
Include Additional Assets on Your Resume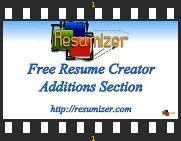 The Additions section of the Resumizer Free Resume Creator is where you can enter your awards, certificates, or extracurricular activities. In this section, you can enter anything extra you would like to include on your resume. Including positive achievements can improve the authority of the other details you have already written.
Having won awards or performed volunteer work bolsters your commitment to your job and your career. People wouldn't have spent the time to do these things if they didn't have a genuine interest in them. Which is why it can be important for you to write about them and why these spaces have been made available. You can tailor and customize your resume to bring it to a sharp focus, so there is no doubt as to what your abilities are.
Enter the heading for your subject; for example Awards, Certificates, then enter the information about that heading in the box below it. The heading should be something that immediately communicates what elements you listed below it. From a well-constructed heading, if the employer scans your page without really reading the contents too deeply, they will still get a sense of what you wrote there.
You will use a bulleted list of short sentences, using 12 words or fewer. The creator program will format the list for you. Formatting can be a difficult job to do if you are not familiar with how to do it. We want our list to look neat, orderly, and straight to the point. This neatness is why we use a few words to make it quick and easy to read.
Be creative about the career assets you can list that can promote your qualifications. Beyond the normal awards, certificates, and internships, there may be other situations available in your field that you can use as an entry. Also, be on the lookout for opportunities that may arise that you can participate in that would be good to include. If you are short on experience or education using this section can fill in some of those holes and strengthen your qualifications.
As the express states "Less is more." It isn't always how much you write, but the substance of that writing. Make what you write count don't write to take up space but to convince the employer that you are the best person for the job.
Update: The Skills section has been relocated to this section, information about skills can be found in the Contact Info video.
Resume Additions Video
All Videos
Education Video
Fonts & Colors Video
The nice thing about our system is that if you can't get this done on your own our creator programs will help show you they way. The tips and tutorials for this and the other pages you will need can all be created the same way once to know how our creators work.