Fill In Resume Do-It-Yourself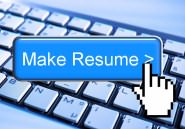 Fill In Resume Do-It-Yourself
A fill in resume, now you can do-it-yourself there is no need to hire anyone when you can create your resume and cover letter right now online using our Free Resume Creator Management System. You don't even need to leave the house. This creator doesn't even make you pay to download the resume because there is no charge to get your resume, cover letter, and more.
The Resumizer
fill in resume
wizard helps you to
do-it-yourself
especially if you don't know how to correctly set it up or format it. Follow each step, fill in the requested information. When you are finished with the fill in resume the creator will properly set up and format it for you automatically.
Our other creators work the same way, you fill in your information and it is then turned into a usable fill in
resume
,
cover letter
,
reference page
,
networking cards
and even a
after interview thank you letter
. You can fill in only what you want to use then leave the unwanted entries blank.
Fill In Resume Do-It-Yourself System
You can also create matching cover letters, reference pages, networking business cards and post interview thank you letters.
The help and tips we provide will walk you through your fill in resume, you can do-it-yourself and be your own writer.
You are given a large number of options. You can choose your preferred style, section order, colors, and font. This is true for all of our online tools.
To make it easier to use the fill in Resume Creator you can enter your information with our Edit file, for free of course.
As a user your info will not be stored in the system, an Edit file will let you access our service from anywhere in the world.
You can come back to edit and update your fill in resume whenever you need to, there is no requirement to join or sign up with us.